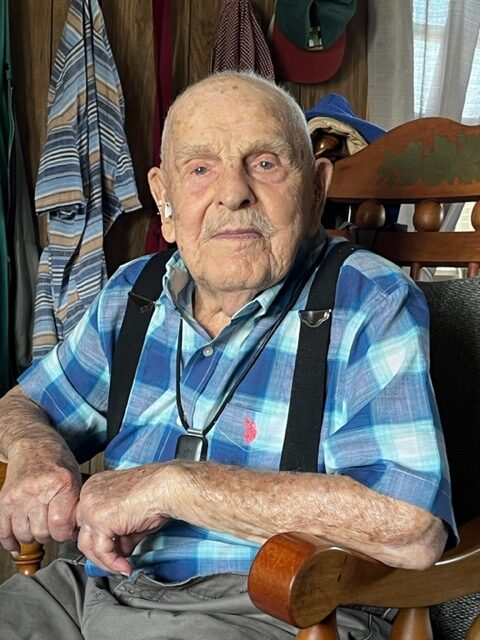 Byron is 100 years old!  Was born in 1923.  He was telling me about his two big birthday parties, one with the sr. citizen card party and one at Rob's in Brookville.  By the way, Bryon plays cards several times a week to keep active.
The Davis home place was on Verona Pitsburg Road where the white house still sits today near Graw Road. Bryon graduated in the Monroe class of 1942 and was active in school playing basketball and, in the band, playing the clarinet. Mr. McGray was one of his teachers. Another teacher brought to remembrance was Russell Flory.
He married Ester Spitler, his high school sweetheart.  Byron's brother was Denver Davis and their parents were Forest Davis and Celia (Hissong), both buried at Mote Cemetery.  Ester and Byron had one son; Jack Davis born 1945. 
Byron farmed and raised tobacco.  He also worked at NCR and Delco as well as working in Tipp City at an exhaust tube place.
Memories of Pitsburg:
Byron remembered the streets of Pitsburg being gravel back in the 1920's as a kid.  Even Rt. 127 was gravel and streets around big cities being brick in the 1930's. *(In 1924 Jefferson St. was paved)
The house where he owns , which is brick, was thought to have come from Painter Creek brick and tile factory.
His wife, Ester, lived on the south end of Pitsburg on Jefferson Street on the west side of the street. About the third house from stop sign, a large brick house.
Harley? Spitler would go to St. Rosie? Near Versailles and get livestock. I found a St Rose by Maria Stein. There was a stockyard by elevator in Pitsburg. The livestock would be shipped to PA and Cincinnati by train. *(the Pitsburg 1976 book mentions Harley dealing with horses)
Byron remembered these businesses:  Steinmetz Grocery at the south end.  Sold candy, flour and sugar.  Everyone had big gardens to feed the family so stores supplied bulk.  The Niswonger Store.  There was Hammels and Stoltz Elevator. 
Jack's house (his son) was a barber shop. Jack Baker's dad. Ray Young moved a tobacco barn into town for the restaurant. He sold eggs in Dayton. The building was across from Stutz Garage. His grandparents sold their eggs to either the Young's or in town. They lived by Pleasant View Church the place with the round barn. Their name was the Hissongs.
Grandpa Hissong (John) bought a car from Stutz Garage in 1915 and had the car until 1926. In 1926 the starter motor car came out instead of cranking the car.
Byron also mentioned Harters Hatcher who also made cabinets and they made their kitchen cabinets.
The Grubbs Rex old school called Germany was a four-room school.
The Crossley's had the restaurant where the bank was. The little house beside it was the barber shop by the elevator. There was another barber shop on NE corner by Niswonger's Store at one time.
Tobacco was 5 cents a pound in 1929. Rod Brown had a whopper crop of 3000 pound off his acre lot.
In 1929 a farm sold for $11,000 on contract. This would have been the acreage between Grubbs Rex Road and Graw Road.
Byron was in the Navy during WWII from 1943-45 and was drafted.  He mentioned the gas rationing and gas was 18 cents a gallon.
Events in Pitsburg:
Mystery Night of showing movies was a big event by the restaurant. They also showed them by Midway gas station.
He attended the Methodist Church and remembered the Blue Top Restaurant being packed after basketball games. You could play pool and cards there.
Another store was Kissells Grocery in Niswongers building and he said Dr. Kissel was a good guy who lived where Dr. Heise was.
Flory Restaurant was across from LJ's and another across from the doctor office.
Parades seem to be a by gone era. In later days we had opening day for baseball and the Halloween parade. In Bryon's day during the 1940-50's there was a parade to Mote Cemetery for the Memorial Day services most likely the band marching that way. I believe we did that in the 1970's one year. It's a long dusty march when it's hot out!
A lot of good memories from a guy that's 100 years old! And I'm sure a lot of significant changes as well.
Please follow AWTHS blog guidelines. Story is part of AWTHS archives.
*Contents in parenthesis are from the 1976 Pitsburg book.
Interviewed by Annette Stewart