OUR BEGINNING
On Thursday, March 24, 2004 Arcanum residents William Gunder, David & JoAnne Hill, Fred & Carolyn Troutwine, Keith Furlong and Anita Short first met to organize an historical society, encompassing Arcanum and the surrounding area. On June 15, 2004, the Arcanum Wayne Trail Historical Society, Inc. was established.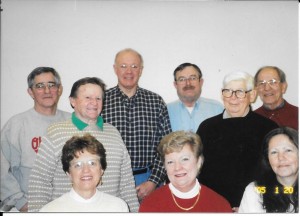 First Officers:
First Board of Directors:
President: Keith Furlong
Rodman Brown
Vice President: Fred Troutwine
Bill Gunder
Treasurer: Lois Eilerman
Wendell Miller
Recording Secretary:
Pat Jones
John Trigg
Corresponding Secretary:
Barbara Deis
The Society purchased the Arcanum Wayne Trail Grange Building at 123 W. George St. on November 24, 2004, procuring a physical working and display space for the organization. A program schedule has been developed for the public to attend and enjoy.