The AWTHS Open Hours will be held Saturday, April 15 from 2-4pm instead of our usual "Open First Saturday's hours". This will be held in conjunction with the Arcanum Alumni evening event. This year the following classes will be honored: current senior class of 2023, 1998, 1973 and 1948.
Visit the Arcanum Alumni FB page invite for details and information concerning event and RSVP's.
Stop by the Wayne Trail Historical Society and view memorabilia from these classes which may include class photos, yearbooks and if donated, acquisitions from Arcanum and some of these graduation years or classes as well as AHS artifacts.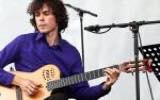 The Coffee Series sponsored by the Darke County Center for the Arts will perform once again at AWTHS, April 20 at 7pm. Doors open at AWTHS at 6:30pm. Performer will be Elden Kelly and this is a ticketed event and can be purchased through the Darke County Center for the Arts website https://www.darkecountyarts.org or at Fourman's Variety Store uptown. Ticket price is $15.00.
Music selection description:
With a strong grounding both in traditional genres and
fusions, Kelly mixes classical,
world music and jazz to evoke traces of Latin,
American roots, flamenco, and Indian
music underpinned by modern swing, African
polyrhythms and cross-cultural
grooves. Elden aptly cuts his own path through the
music world and brings to
audiences across the country music that is
recognizably, uniquely outstanding
Please follow AWTHS blog guidelines concerning contents and sharing.