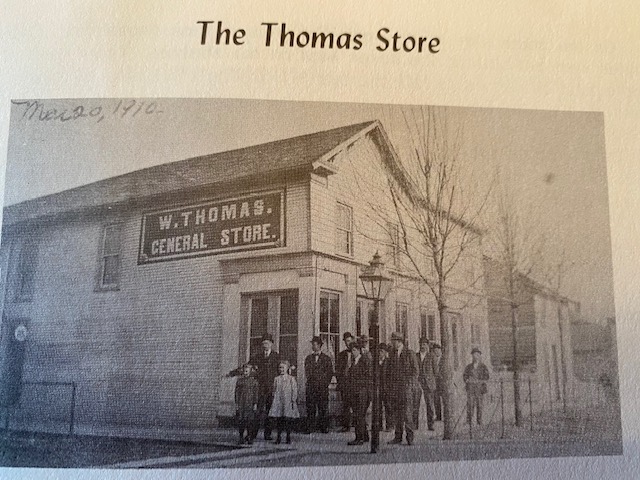 Photo from Jeanette Brock Burke's book "Down Memory Lane 1901-1971".
People in photo: Back Row-Wm Thomas, Percy Hamilton, Clarence Colville, Henry Colville, Wm. McInturf. Front Row-Jeanette Brock Burke, Ruth Thomas, Glen Thomas, unknown.
Jacob and Mary Thomas History
Jake or Jacob Thomas started the Thomas Store in Ithaca prior to the Civil War in 1859.
We don't have a lot of info on this first family for the store, but through Family Search and some records (marriage record for Jacob and Polly) along with the stone on Find-A-Grave and census records we have put together the following story:
Jacob and Polly (Mary) Warwick were married in 1839. In Family Search it list Jacob as 33 yrs. Old with Polly 36 and children as Martha, Western, Julia and Cornelius.
Per the Thomas Stone photo at Ithaca Cemetery we read Jacob, born December 27, 1818. Died January 8, 1893 at 74 yrs.
Polly or Mary was born February 1, 1814 and died at 67 years on December 20, 1881. Daughter Sarah is also on the parents stone engraved as born 1851 and died 1854.
In the 1850 census Jacob is listed as 33 yrs. Old and born in Tennessee. He was in Twin Township as a merchant. He is listed with his wife Polly and children, Martha, Western, Julia Ann and Cornelius.
In the 1870 the changes are post office as New Madison and children name is Weston (speculate for "Western" earlier) and William added as 13 years old.
Family Search has added these children which we do not have a record for: Francis and Dayton.
We've included a page from Jeanette's book about the store. To finish the rest of the store's description, please visit AWTHS Research Library, open the first Saturday of the month.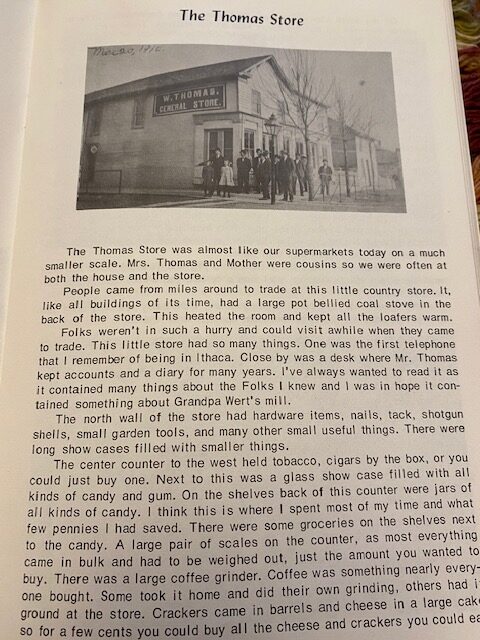 Our next blog or story will be about William and Laura (Klinger) Thomas descendants and the tie with the Hamilton family.
Please follow AWTHS blog guidelines in regards to copying or sharing. This includes all info, photos and writers sources and contents.