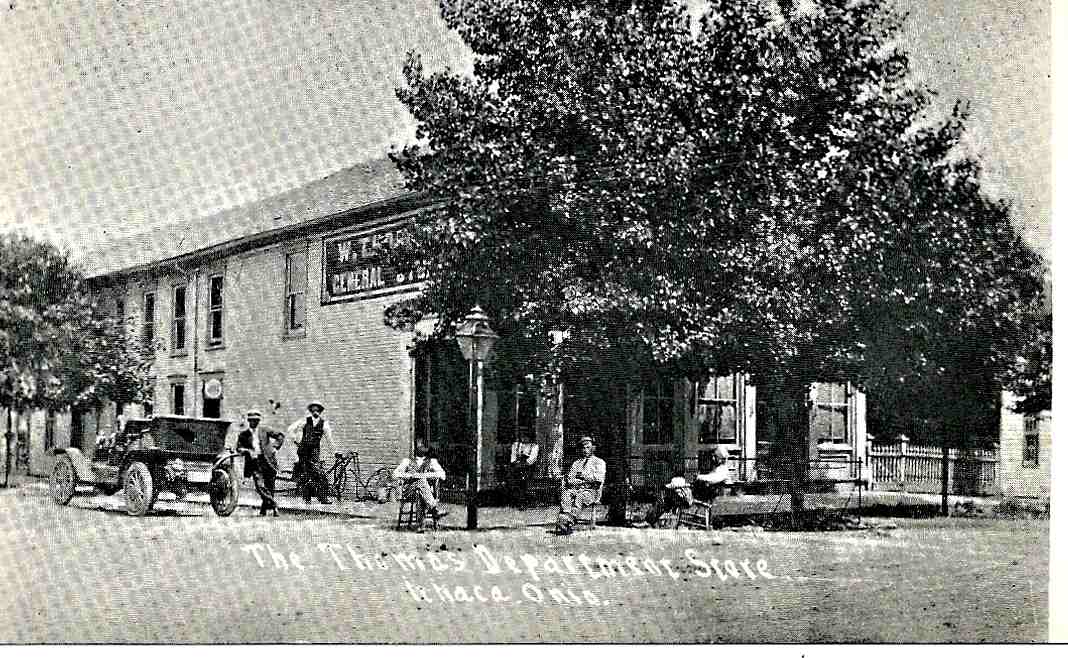 The Thomas Store…Ithaca Ohio
At the intersection of Rt 503 and Cross Street, a building once stood known as The Thomas Store.
According to the Greenville Daily Advocate, dated July 23, 1952, a clipping provided by the Greenville Library Genealogy Department, we read a few fascinating lines about The Thomas Store from the Newspaper.com site:
The title says that "103 year old store being closed out". It was one of the oldest historical buildings in Darke County at the time.
A sale of its remaining stock will be held Friday, July 25, 1952 and continue until all the stock is sold. Items sold were antiques, dry goods, hardware and a few groceries. Fred Shepherd was the owner.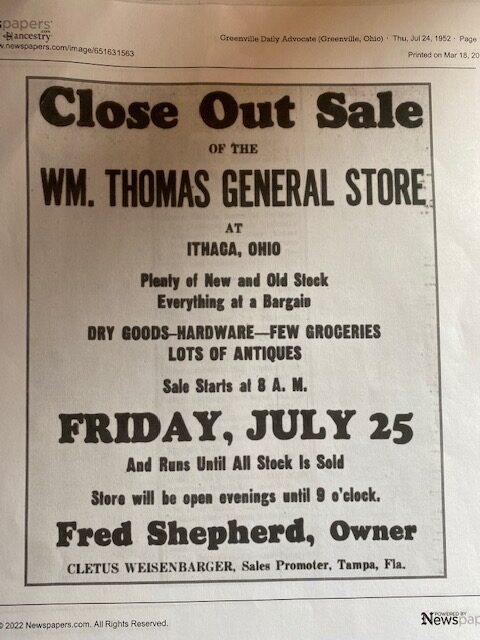 The history of the Thomas family is as follows: The store dates back to two years before the Civil War to 1859. It was founded by Jake Thomas. A son, William, joined him in 1891 and took over the management when his father died two years later.
The store was in continuous operation for over 102 years but suspended hours in 1951 when William Thomas retired due to failing health.
He died six weeks later and his daughter, Mrs. Marie Hamiliton sold the business to a cousin, Fred Shepherd.
WILLIAM THOMAS & LAURA
Per obits from the Greenville Daily Advocate, dated June 9 1952, we read about William's death. William was 94 years old, operator of the Thomas Store, and the oldest resident of Ithaca.
Funeral services were held at the home of the grandson, Jasper Hamilton with the Rev. J.T. Cooney officiating and burial was in Ithaca Cemetery.
Surviving are his wife, Laura, daughter, Mrs. Percy Hamilton and one grandson and great grandson.
LAURA THOMAS-obit from Greenville Daily Advocate Sept. 2 1952
Laura, widow of William, was 90 years old, died after a long illness. Her husband's death occurred June 7.
Mrs. Thomas spent her entire life in the Ithaca community and was a member of the Baptist Church. She leaves one daughter, Mrs. Percy Hamilton, one grandchild, a great grandchild and a brother, P.W. Klinger of Dayton.
Services will be held at the Thomas residence with Rev. J.T. Cooney officiating. Burial will be in Ithaca Cemetery.
In searching journals at AWTHS from the old Thomas Store, we find one on the Baptist Church of Ithaca which was near the Ithaca Cemetery. It is dated 1912 It is listed as class #3 and Laura is named as an assistant teacher along with Nellie Schaar as teacher and is the attendance book for the class with the students names written in as well as marks for attending.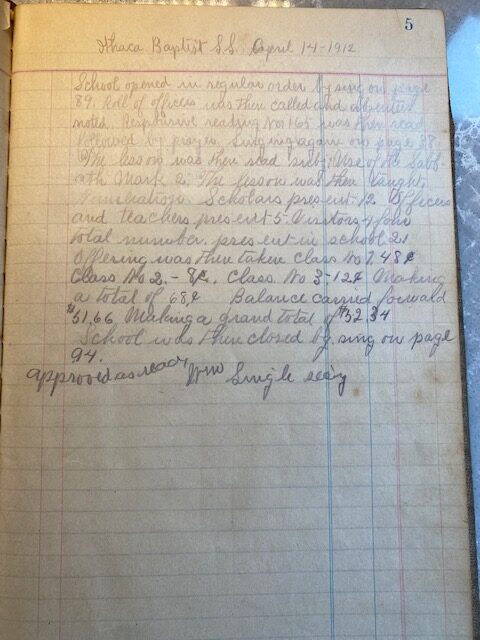 We also found some wonderful photos of the Thomas Store which were identified by Jeanette Brock Burke in her book about Ithaca entitled "Down Memory Lane 1901-1971."
William and Laura had one daughter, Marie or Maude. She was born around 1889 and died 1979. She married Percy Hamilton and this is where the Thomas Store intertwines with the Hamilton family which is, of course, another story!
We would like to find a volunteer to record oral histories and video the town of Ithaca and individuals in regards to Ithaca's history. If you would be interested or have video or tech experience, please contact AWTHS thru [email protected] or message us thru our Facebook page. Please help us preserve history and memories.
Follow our blogs and AWTHS Facebook page for more Thomas Store and family photos.
Please follow AWTHS blog guidelines in regards to sharing, crediting writers, photos and copying.