In the Beers History of Darke County dated 1880 we come across the bio for Dr. John Hamilton, surgeon and physician for Ithaca.  I'm thinking that it is noteworthy for Ithaca to have a physician that identifies also as a surgeon. 
From research and census records, we find he was in Ithaca in 1875. Prior he studied at Mt. Union College, residence at Louisville and finished at Cincinnati Medical Institute. In 1875 became a doctor.
His parents were Jacob and Maria Hamilton. He was born 1852 and was married to Ella Dresher (Dresser) in 1879 in Preble County per the marriage record.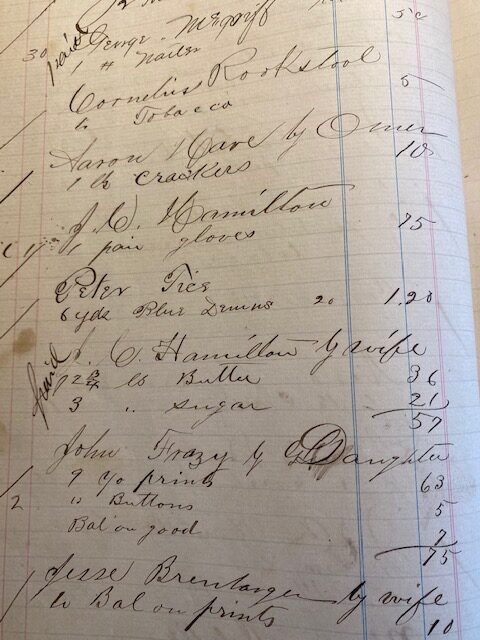 Children were Archie, Herbert, Percy and Paul.
Per the census records, Dr. Hamilton lived in Ithaca 1880 and 1900. In 1910 he is listed in the state of Washington where he also died in 1918.
We also find in a newspaper clipping that Dr. Hamilton becomes the mayor of Ithaca in October of 1907 after Mayor J. Fasig resigned. Dr. Hamilton was president of the council of Ithaca previously.
He is buried in Ithaca Cemetery along with his wife, Ella, and two of his four sons: Archie and Herbert. Fourth son Paul died in Arizona and was unclaimed in WA for 30 years. A Missing in America Project volunteer claimed them and after finding his service record from WWI he was laid to rest in 2011 in Washington State Veterans Cemetery. See the full story on Find a Grave ID# 120181214.
Third son was Percy Hamilton who was born November 1, 1883. He married Marie or Maude Thomas, daughter of William and Laura Thomas. Thus, the tie of the Thomas family with the Thomas Store of Ithaca.
Per the marriage recording we read: Percy Hamilton, painter and 30 years old, son of John Hamilton married Maude Thomas, 23 daughter of J.W. Thomas. Paper dated 1913.
Per Family Search, a record is found of his registration for Percy for WWI and he's listed as a farmer.
In his obit we find he died at 70 years old in the June 1, 1953 Advocate. His wife was Marie and son Jasper. Brother Paul. Also a grandson.
Apparently Percy is buried at Ithaca Cemetery but we didn't find a record on Find-a-grave.
Next Generation
A son Jasper Woodrow Wilson was born to Percy and Marie Hamilton in 1913.
Jasper and Esther Bryson were married and a boy was born January 23, 1944 and named James Jasper Hamilton, per the Greenville Daily Advocate.
Grandparents were Percy Hamilton and Roscoe Bryson.
Jasper died in 1992 and is buried with his wife Esther also at Ithaca Cemetery along with son, James (Jim) Hamilton. The Advocate list James (Jim) birth as 1944 but the find a grave at Ithaca Cemetery and obit list the year 1943.
If anyone has Hamilton photos or info please share with AWTHS.
Please follow AWTHS blog guidelines concerning copyrights and sharing.