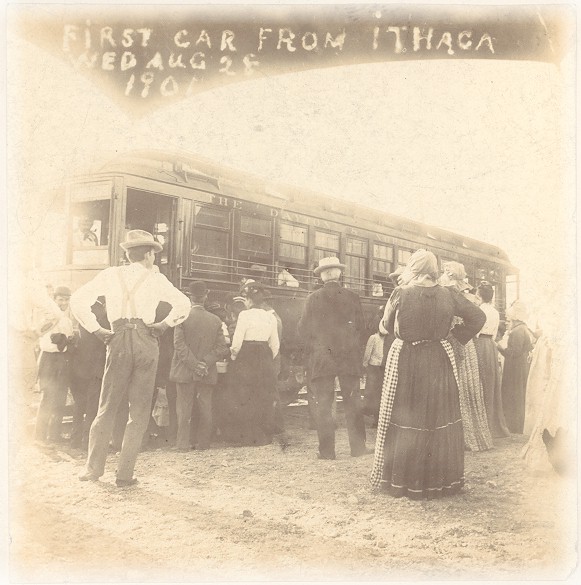 Traction Line at Ithaca
This info was written by William Gunder, past member, researcher and writer of AWTHS. Bill was working on articles on transportation, including the railroad and traction line, previous to his passing in 2015. Those of you who are familiar with Arcanum's history, know Bill's great grandfather, William Gunder was the Founder of Arcanum.
This information is to be credited to William Gunder in his memory, a tribute to preserving our area history.
Electric Railroad (1900-1925)- alias Traction Line and Street Railroad In the early 1900s Arcanum residents were very fortunate to have two passenger & freight steam train lines as well as the electric railroad stopping in their community. Shortly after the invention of reliable traction motors and the subsequent electrification of local street railway systems, entrepreneurial individuals began applying the technology to longer haul routes to serve territories that were lacking meaningful transportation. In our area the traction line came north from Cincinnati through Dayton into Darke County up to Union City then entering Indiana. The typical electrical system was 600 volts DC. Because of the limits of DC transmission, substations were required every 5 to 10 miles to feed the running wire, with high voltage AC transmission lines connecting the substations to the central power plant.
With that in mind substations were probably in Verona, Arcanum, Greenville and Union City. We know the substation in Arcanum was at 6 N. Main St. The double stack chimneys are still in place. There were stops in Gordon, Ithaca, Arcanum, Abbottsville/Jaysville, Greenville, and Union City. The interurban system provided an efficient passenger service to many small towns in western Ohio between major cities. Traveling at 25 mph the small electrically powered cars could accelerate much more quickly than steam trains, they could tackle steep grades and tight turns so they could make more frequent stops. The interurban scheduled cars every hour and the fare was 1/3 to 1/2 the cost of the steam train.
Students from Gordon and Ithaca rode the traction cars to and from high school in Arcanum. It was safe for children to travel by themselves to visit relatives in near by communities. The electric cars were a convenient way to travel from the county into the villages for business or pleasure. It was easy for a farmer to hop on the car daily to take fresh produce, eggs, chickens, etc. to sell to residents or to the grocery stores. Both the electric train and railroad added extra cars to their line during the Darke County Fair. If you wanted to phone the Depot you dialed 86. In 1921 the fare for a trip to Dayton was raised from 81 cents to 98 cents one way; to Greenville it was 35 cents one way. In 1925 when passenger use declined reduced rates were offered; a round trip for the price of one way trip to Columbus, Springfield, Dayton or Lima.
The most serious accident in the history of the Dayton and Northern Electric Railway happened Dec. 3, 1908 west of Steele Point School House (near Rt.49 and Delisle Foureman Rd). Ten passengers were hurt when the car overturned due to a loose axel. With the growth of car travel, as well as new bus and trucking lines, there was increasing pressure in the 1920s and 1930s to get the rails off the roads. Towns began to see the tracks in their streets as a nuisance, especially as the traction companies began deferring maintenance of the road around their rails. Out in the country, state and county governments tried to close down some of the interurbans so they could use their right- of-way to widen the adjacent roads. Local newspapers reported conflicts between the local government and the electric railway company. "Traction will stop service December 31. Will make last run Thursday, December 31. Agents were officially notified. (Arcanum Times 12/24/1925) Through the 25 years the electric train provided service through Darke County it was operated under the names of Dayton & Northern Electric Railway, Ohio Electric Railway or Indiana, Columbus, Eastern Traction Company.
The historical society has several very nice photos of the electric railroad including one showing the traction lines and track on Main St. and one of a traction car in Ithaca taken on the first day of service in 1901.
Please follow AWTHS blog guidelines in regards to crediting the writer, photos, story and contents and in relation to sharing this information.