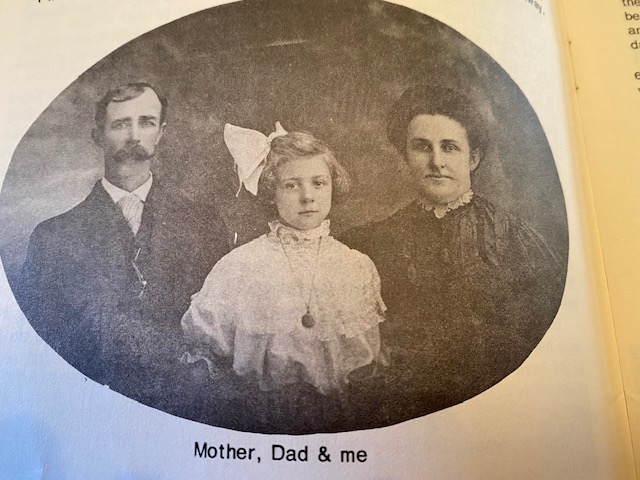 Jeanette Brock Burke's Family
Photo from Jeanette Burke's book "Down Memory Lane": Ed Brock, Eve (Wert) and Jeanette Brock.
The following information and story is from clips from Jeanette's book "Down Memory Lane" by Jeanette Burke as well as obits, notes and photos given to awths by Jean Price, family of Jeanette.
Wert's
Peter Wert and son Watson, ran the mill on the north side of Ithaca on the hill. They also had a tannery on the opposite side of Rt. 503 near the bridge. The properties can be seen on the early plat map of 1875. The tannery can be seen on the 1857 map.
Peter Wert was born 1810 and married Sarah Hartpence in 1834 according to her obit and who was born 1812. They came to Ohio in 1838 from New Jersey. She died in 1882 at 70 years. Peter than married Mary who died in 1888 at 61 years of age.
Peter had three children: Caroline in 1835, Watson in 1842 and Dell in 1851.
Caroline married Andrew Klinger and their daughter, Laura, married William Thomas who operated The Thomas Store on the corner.
Dell or Adelia Wert married Cornelious Thomas, who was Jacob Thomas son. Jacob was the first owner of The Thomas Store.
Peter Wert had land in Twin Twp. Section 27 and around Ithaca.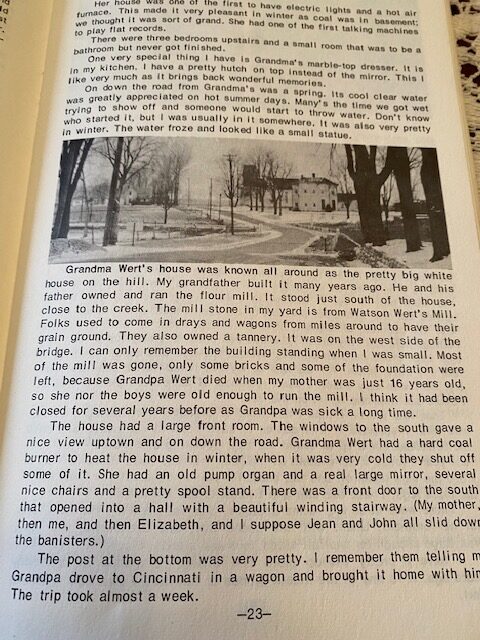 Watson also operated the mill and built the large white house going north out of Ithaca on Rt. 503 on the right side of the road. The mill would have been on the south side of the house as a stream runs thru the property.
Watson married Mary Nettie Unger born 1848. They had a daughter, Eve Luella born 1870. As well as Carlton Gay and William. This is verified in the 1880 Twin Twp. Census.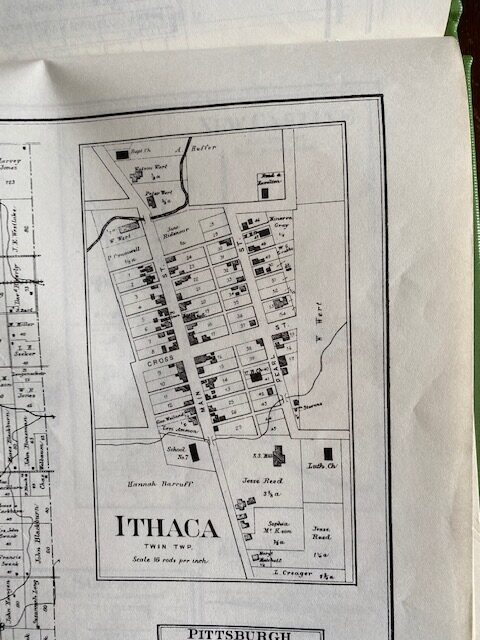 Brock's
Eve married Edward Brock born 1865. Their children were: Owen Brock and Jeanette Brock, our subject, born 1901. Edward's mother was Jane Ridenour.
Burke's
Jeanette married Willard Burke in 1920. Their daughter was Elizabeth Louise who married Harry Baldwin. They had six children. Daughter Jean donated the numerous family acquisitions to AWTHS.
Willard Burke's parents were Elias Burke and Maude Horniday. Willard's sister was Beulah Burke Stump, whose spouse was Bill Stump who was a butcher and meat cutter and lived near the corner of Arcanum-Ithaca Road and Grubbs Rex. Known too many in the community.
In Jeanette's book about Ithaca she mentions the IOOF building and that at one time her two uncles, Gay and Will ran the grocery store around early 1900's.
Peter Wert, Watson Wert, Edward Brock, Eva Wert Brock, Williard and Jeanette (Brock) Burke are buried at Ithaca Cemetery. Not far from where they lived and raised their children.
Please follow AWTHS blog copyright guidelines. Photos and pages from Jeanette's book "Down Memory Lane" are to be credited and sourced as written.