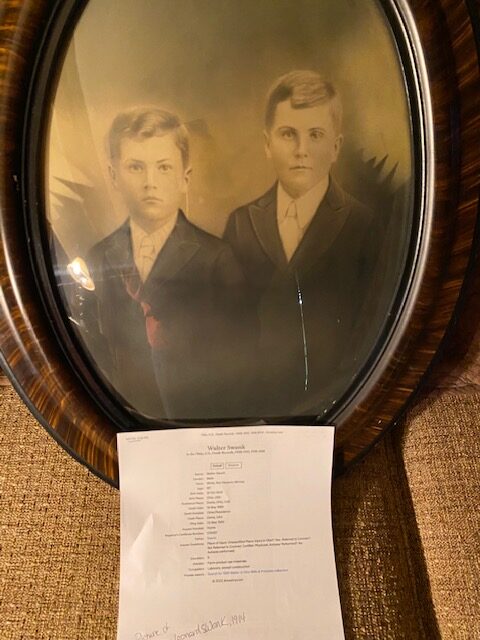 Leonard and Walter Swank Portrait
Acquisition acquired of Swank boys-family of Esta and Pearl Swank.
Thru several researchers we acquired the following story about this portrait.  It was taken in 1914.
Walter and Leonard's parents were Esta and Pearl (Holsinger) Swank. Sibling is Olive O'Dell born 1904.
Thru Leonard's obit we find he was born in Monroe Township April 26, 1907 and departed this life December 25, 1932 at 25 years of age. Another obit states from a accidental gunshot wound which resulted in blood poisoning. (Daily Advocate, 1932). Census indicate occupation as a carpenter and farm laborer.
Walter: was born 1908 and passed 1989. Per Find a Grave, he is buried at Abbottsville Cemetery with his spouse, Elizabeth. He possibly worked on or for the railroad.
The grandparents are John Swank and Elizabeth Carl buried at Polk Grove Cemetery in Montgomery County and great grandparents are Solomon Swank and Elizabeth Niswonger.
If you are a family descendant or would like to dive further into this family story please contact AWTHS-Annette Stewart at the research library.