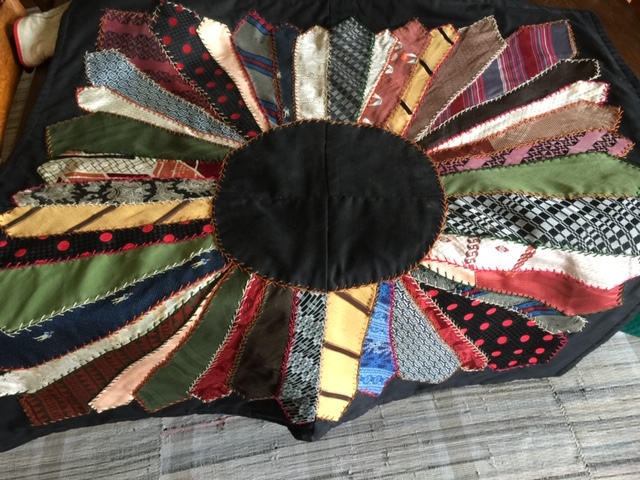 Joan Rench Family Heirlooms
This Arcanum area crafter, Joan Rench, is well known to many. She is known for her beautiful brick home northwest of Arcanum and the many articles she has made and displayed at the Domestic Arts building at the Great Darke County Fair each year.
From quilts to sewing to hook rugs and needle work I suppose Joan has done it all. For this display we had a hard time choosing but liked this colorful and creative way of displaying old ties into a quilt for William Crick in the 1970's.
Her daughter, Bev Rench, gave us the following description of her beautiful work: A Tie Quilt is a way to preserve and display a loved ones ties.  This table top tie quilt is the dresden plate pattern appliqued with the blanket stitch.    The ties belonged to William Crick on Dull Road and was crafted by Joan Rench in the late 1970's.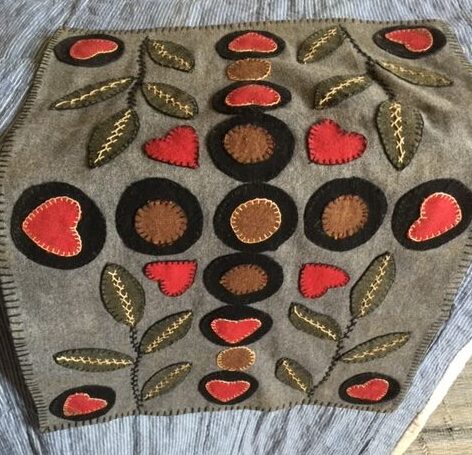 A Penny Rug is a decorative mat. These mini "rugs" were originally made of various sized wool pennies and stitched together using a blanket stitch. Some were made with appliqued designs such as hearts, flowers, animals and other antique shapes.
Penny rugs are believed to have started in the 1800's during the Civil War. During this time, homemakers made these decorative mats to utilize scraps of wool or felt from clothing. Penny rugs got their famous name due to crafters using pennies as a template for measuring the top layer of circles. Pennies from the 1800's were not the same size as the ones used today – they were much bigger.
Despite their beautiful appearance, penny rugs were initially meant to be quite durable.  By using the blanket stitch, penny rugs could withstand a rug beater and even be used in practical ways like wiping dirt off muddy boots.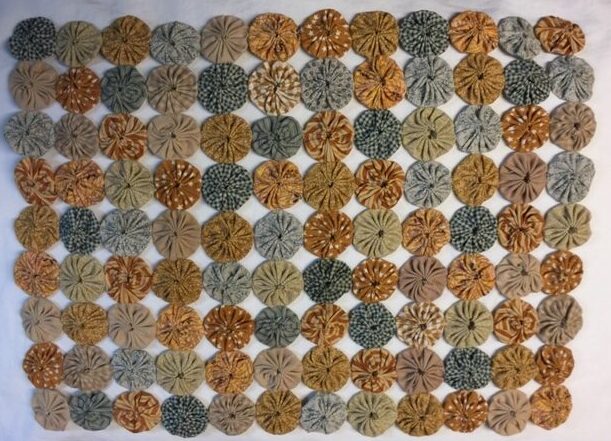 Yo-yo quilts are made from round pieces of fabric with long stitches along their turned under outer edges. Stitches are pulled to gather the circles into rosettes. Yo-yos are sometimes attached to a large piece of fabric, which can then be treated just like any other quilt top.
Fabric yo-yos became popular in quilt making during the 1920's. Yo-yo quilts were made with randomly placed fabrics or their colors and fabrics were sewn together to mimic quilt patterns or to make pictorial designs. Large projects were sometimes made with as many as 10,000 tiny yo-yos.
This yo-yo placemat is one of twelve made by Joan Rench in 2002.
Thank you to the Rench family for sharing their history of these pieces with our readers.
Please read and follow AWTHS blog guidelines in regards to sharing any or all contents.