Another recently discovered child of William Gunder, The Founder of Arcanum. https://www.findagrave.com/memorial/203462140/mary-a-stevenson
Father: William Henry Gunder, born in PA and of Dutch descent
Marital Status: Married at time of death
Occupation: Housewife
Miss Mary A. Gunder married Parkhill John Stevenson 1849 in Darke County, Ohio.
Of interest is one of their children, Dr. William Henry Stevenson, was born in Castine, OH November 13, 1851. In 1861, William, along with his parents moved to Iowa. Full bio's on Find-a-Grave and AWTHS Research Archive file. The bio below also mentions the Stevenson and Gunder families.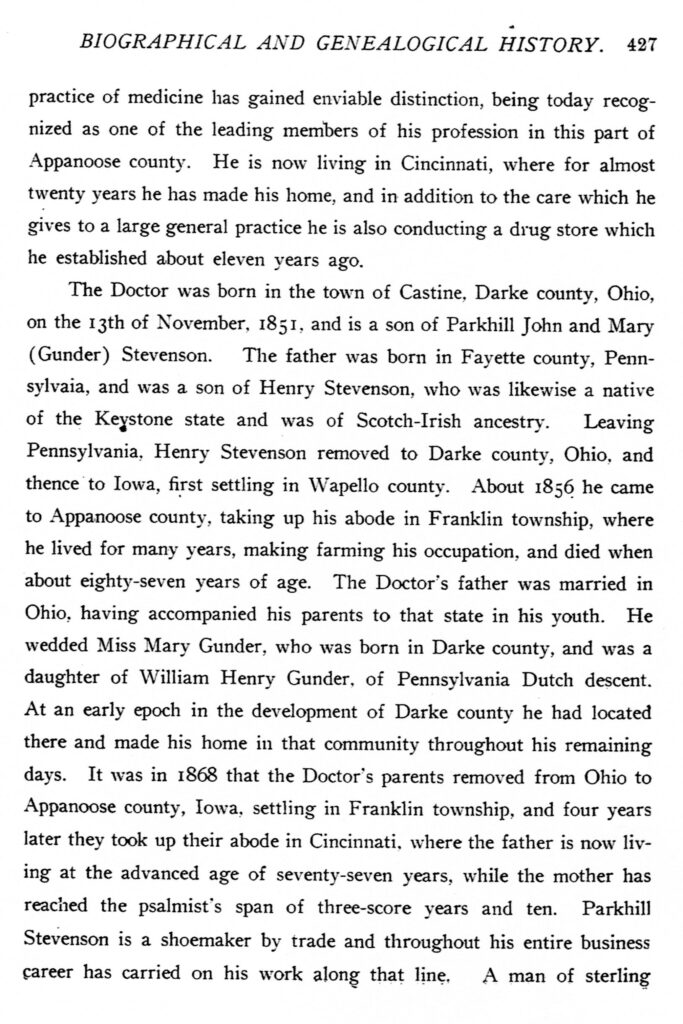 From Find-A-Grave:
Mary A. Gunder Stevenson
BIRTH8 Oct 1832
Darke County, Ohio, USADEATH13 Jul 1906 (aged 73)
Cincinnati, Appanoose County, Iowa, USABURIAL
Pleasant Hill Cemetery Cincinnati, Appanoose County, Iowa, USAMEMORIAL ID203462140 · Research by Bonnie Shirley Amery. Please credit researcher and Find-a-Grave site.
Mary's husband:
Parkhill John Stevenson born a son of Henry Stevenson and Sarah (Blair) Stevenson. He was widowed at the time of his death.
Known siblings include: Mary, Sarah, Blair and Henry.
His occupation in the community was the shoemaker.
Much credit is due findagrave contributor, Carolina Grave Hunter for sharing information that made it possible to remember this family with findagrave memorial pages. https://www.findagrave.com/memorial/203461130/parkhill-john-stevenson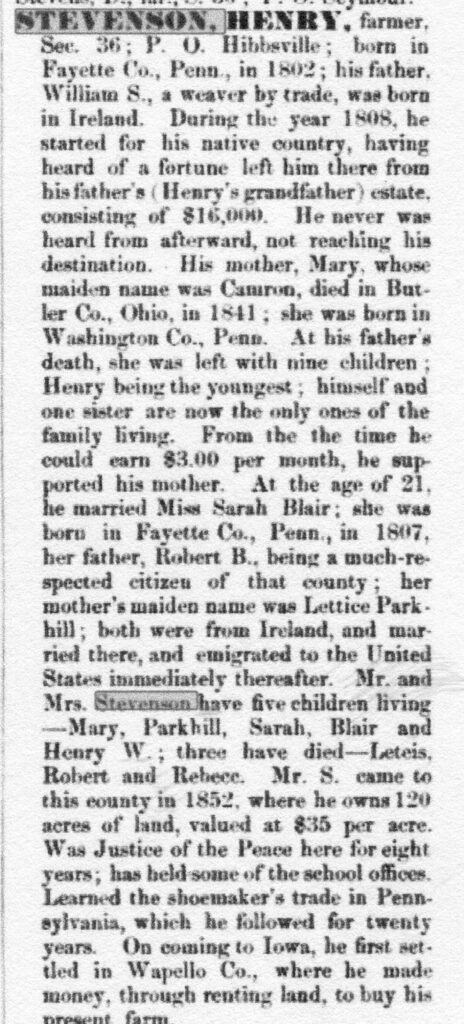 Please follow AWTHS blog guidelines as well as credit for above to Find-a-Grave and fellow researchers.