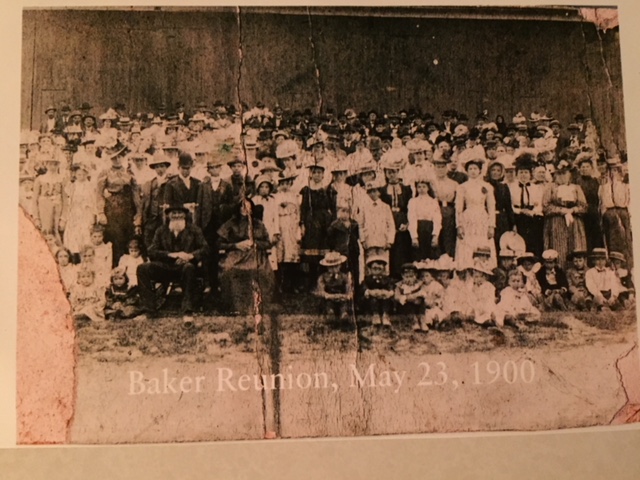 Of special note is the beginnings of the interest of this project thru Willam Baker sharing about the Baker reunion. Thus the Baker family history project began.

The Baker group project was formed in 2018 for the purpose of compiling the Baker Family history primarly of the lines of Henry J. Baker and Elizabeth Poe and Michael Baker Sr and their descendants.
Tom Pedtke was the group's coordinator and computer data compiler along with key contributors Dixie Kepler, Gale Honeyman, Georgie & Thomas Pedtke, Kathy Mahoney, Randy Dull, Karen Ernst, Annette Stewart and Bev Rench.
After several years of gathering information, documents, photos and writing stories as well as keying in data in Legacy software, we are around 19, 224 individuals with anticipated entries to exceed 25,000.
At present, there is some data to input and stories and other data to be processed.
But the good point is that AWTHS and some of the contributors are offering their document file to the researchers who come into AWTHS to the library.
Annette Stewart will be glad to share her documents (marriages, census, death records, obits) she's gathered on the Henry Baker line and of their daughter, Margaret Baker, who married Abraham Seas. They had 9 children and we have documents and photos on most of the Sease family going on thru George, David, Walter and Dale Sease.
It's highly possible that the other document files of the children of Henry Baker and Elizabeth Poe's children will be available as well. Those include: Juliann Baker Besecker, Elizabeth Baker Dull, Elias Baker and wife Mary, Joshua and wife Elizabeth Fourman, Josiah Baker and wife Mary Fourman, Henry Baker Jr. and wife Elizabeth Fourman, Lydia Baker and Samuel Fourman, George Baker and wifes (1) Mary Swank and (2) Rosanna Ditmer, and Mary Baker and husband David Swank.
We also have lots of interconnecting families, the Fourmans being one of those.
Contact AWTHS for info. The files will not be on-line. You will need to come into the research library to view during open hours or by appointment. Message or email AWTHS. The AWTHS staff will assist during open hrs but not answer extensive questions thru email or research for others.
Eventually our plan is to have a Baker book to purchase.
Until then, we have a golden opportunity for you!
Please follow AWTHS blog guidelines in regards to contents, photos or info within this blog.
See less