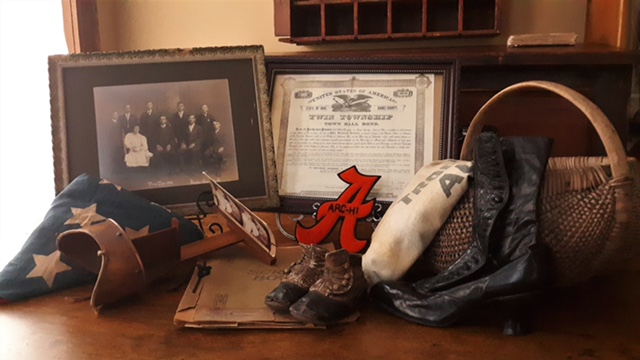 Some of AWTHS collections.
AWTHS will be a part of Ohio's Open Doors on September 17 from 1-5pm at 123 West George in Arcanum, Ohio.
We are a host site for Ohio Open Doors–a 10 day event when Ohio historic buildings and landmarks open their doors for special tours and events. We've created a special event for our neighbors: think of this event as an opportunity to invite your friends and neighbors inside AWTHS doors to share our site's unique stories as well as other sites in the state. Explore Ohio.org and Ohio History Connection to find sites open in Ohio.
As part of this unique experience, AWTHS special guest will be Hannah Wiest, who is a history enthusiast both personally and professionally. She is a historical interpreter at Carriage Hill Farm, an 1880s living history site. She will also give a formal presentation titled "See it! Save! Preserve it!" at 2pm on how to safely handle and preserve a variety of different specific heirlooms like photos, documents, and textiles.
From 1-5 pm visitors can explore some of AWTHS extensive collections, but also learn more about preserving treasured family heirlooms at home. Local historical researcher Hannah Wiest will be available throughout the afternoon to answer questions, make suggestions, and provide resources on best storage practices and materials so they can be enjoyed for generations to come.
Feel free to bring an heirloom with you for specific advice, stay for the presentation, or just stop in to learn more about Arcanum, the historical society, and its collection.
Questions? Please contact Barb Deis. Or AWTHS thru messenger or our email: [email protected].
Please follow AWTHS guidelines regarding our blog copyrights regarding sharing, materials, and photos.