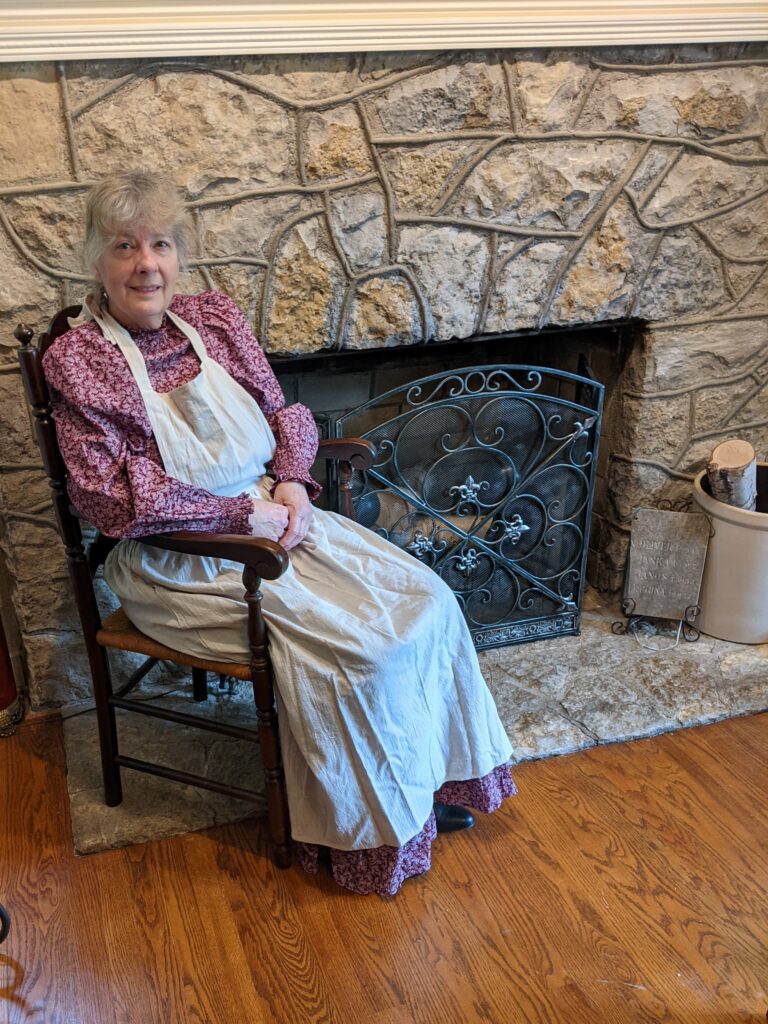 Written by Vicky Krogg for her character for the July Cemetery Walk. Vicky is a direct descendant of the family.
PHOEBE HOWE ASHLEY
William Ashley's wife
Her Name was Phoebe Howe Ashley.
She was born 19th Feb 1761 New Marlborough Berkshire Co MASS
Her Father was Nehemiah Howe and her Mother was
Beulah Wheeler.
Beulah's Father was Benjamin Wheeler. Benjamin's Father and Beulan's Grandfather was Obadiah Wheeler
who married Elizabeth White, the daughter of Resolved White.
Resolved was the young son of Pilgrim William White and Mayflower Compact signer who came over on the Mayflower in 1620
with a hundred or so souls to
form the Puritan Colony of Plymouth MA.–
Perhaps on long winter nights when Phoebe was young, the fireside conversation turned to this connection to
the Puritan Colonists who so bravely endured great hardship to survive in the Wilderness that was America.
No doubt the solid stock from whom Phoebe descended made her strong in her role as wife and Mother through hardships far from her MA home.
Phoebe grew up in New Marlborough Massachusetts and Vermont.
Her parents moved from Marlborough to New Marlborough abt 1749 and then on to Poultney VT in 1771 where her father built a Grist Mill. Phoebe's father Nehemiah served at Ticonderoga and Bennington in the Revolutionary War. Born in 1720 or so he was hardly a young man that served as a soldier. He died in 1777.
Phoebe's Mother Beulah Wheeler and her daughter Olive (Phoebe's older sister) were some of the Valiant 13 . These women escaped during the Battle of Hubbardston. A few miles North they hid valuables, took all the children and fled on foot through rough mountain territory 50 miles south. These brave women are honored each Founder's Day in Poultney VT as the "Valiant 13".
THIRTEEN BRAVE WOMEN
THIRTEEN STRIPES
THIRTEEN WOMEN
On July 13, 1777 all the men in Poultney marched off to defend Fort Ticonderoga
against the advancing British army. They took their weapons and left behind 13 women and 44 children.
It was very shortly after his death, that his widow, Beulah had word that the men were retreating following their defeat at the battle of Hubbardston. Surely Phoebe, at 16 witnessed the bravery of her Mother and older sister Olive and others as they fled into the hills by uncharted roads to the Pownal meetinghouse being stalked by Tories.
The Howe family and the Ashley family's were well acquainted over generations and brothers of one family married sisters of the other family.
William Ashley enlisted in July or August 1775 to serve as a Green Mountain boy and served until June of 1776 when he returned from Montreal to the US. He re enlisted in July of 1777 until the last of December 1777
He re-enlisted in Feb or Mar 1778 and served nine more months
After service William returned to NY and somewhere along the line in 1780/1 migrated to Poultney VT settlement with his other 5 brothers.
In 1779, eighteen year old Phoebe Howe married William Ashley in Poultner VT.
William Ashley's father Thomas Ashley along with Ebenezer Allen on Apr 15th 1771 completed the First Settlement of Poultney VT. The same Season came Issac Ashley and Nehemiah Howe and their families.
Then John, Elkanah, Elisha, Enoch and William ALL BROTHERS of Issac and sons ofThomas Ashley..
Willliam and Phoebe had 11 Children in 22 years
Phoebe and William Ashley's first five children were born in Vermont. Their six other children were born in and around Chenango and Herkimer NY .
Philanda Apr 1780 VT
George Washington Ashley Jun 1781 Poultney VT
Loammi Ashley 1784 Poultney VT
William Ashley Jr 1786 Poultney VT
Rheumilla Ashley 1789 Poultney VT
Abt 1792 Wm and Phoebe went to Ontario Ontario County NY
and onto Chenango
Phoebe Ashley 1792 North Hebron Washington NY
Alanson Ashley 1794 NY
Elisha Ashley 1796 Herkimer NY
Harry Ashley 1798 Ontario NY
Sardis Ashley 1801 Ontario NY
Purnell or Parnell Ashley 1802? NY
Then the Ashleys (and supposedly nearly all of his married children)
came to Ohio settling first in Bloomfield, Knox County 1816
and then Mt Vernon and Fairfield County and on to Darke County
PER CENSUS RECORDS for Wm Ashley
1790 Census Phobe and Wm in VT
1820 Knox County Her bro Peter and Family went there in 1801.
1830 Phoebe in Darke County Ohio
Phoebe and William settled on Plat 32 Southeast of Ithaca on a little farm.
He was a bricklayer by trade
and towards the end of his life was too old to work and applied for a Pension in 1826 which was denied.
Phoebe died on January 4, 1833 at the age of 71.
William and his wife Phoebe and other family members
were buried on this farm which his son Elisha eventually sold after their deaths.
There was some lore that William's grave was marked by a huge boulder with his name scrawled on it
also on the hill of this property. (That farm sits at the corner of Rt. 503 and Darke-Preble County Line Road).
Annette Stewart contacted the present owners of this land and they so graciously allowed us to traipse
all over their property to try and find this boulder .We learned it had been rolled down the hill into a pond decades ago. Lost to posterity.
But Annette has rewritten local history to finally locate the actual burial place of William and his wife Phoebe Howe.
The DAR erected the monument in Ithaca Cemetery to honor Patriot William Ashley as they were denied access to the property of William and Phoebe's true
resting place.
My connection to William and Phoebe is through their son Alanson Ashley who had a daughter
Sarah.
She married James Jones Markwith and died at 26..
Her only surviving son,
Morrison Muckridge Markwith was my G G Grandfather.
His daughter Sarah Markwith was my great grandmother.
Please follow AWTHS blog guidelines. This story and bio is credited to Vicky Krogg.