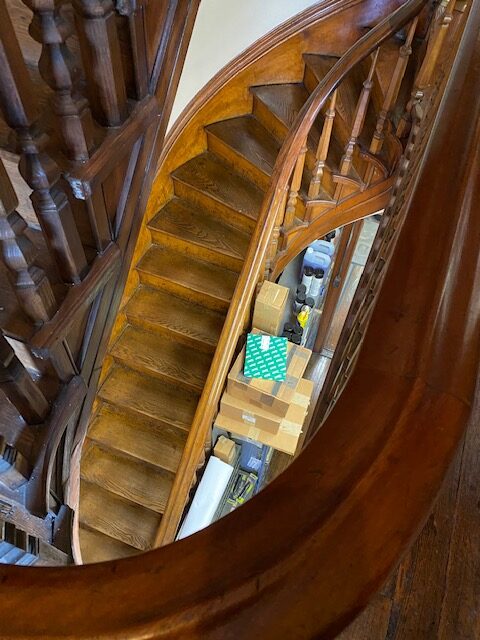 Diana Griffin Good & Christian Good
Stairs Christian Good built in old Smith House currently Troutwines Auto Business.
Jeannie Miller researched and wrote this bio about this family and is a descendant as well. She portrayed Diana, as Christian Good's wife, at the July cemetery tour program.
My name is Diana Griffin Good. I was born 1818 in Pennsylvania. Years later, I met Christian Good who would become part of my life.
He was born in Rockingham, Va. in 1813. Three years later in 1816, his parents David and Barbara (Neiswander) Good moved to Lancaster in Fairfield County, Virginia. As a youth and upward, Christian learned the trade of cabinet making. He would continue living in Lancaster, Fairfield County until the age of 42.
In 1840 Christian Good and I (Diana Griffin) would unite in marriage and lived in Virginia until 1855.We, Christian and Diana, would become the parents of three sons, William, Benjamin, and David, also three daughters, _____, Maria and Emma.
Christian moved his family to the Arcanum area, Darke County, Ohio in 1855 where he remained the rest of his life. He owned and resided at several different farms, the Shepherd farm north of Arcanum and then Jackson farm west of town, likely on Hursh Road as his youngest daughter, Elva would attend school house No. 5 in that area walking from their home.
Christian and I would remain married for 35 years until my passing in 1875. I am buried in Ithaca Cemetery where Christian joined me in 1907.
After coming to Darke County, Christian continued in the cabinet making business locating his business in the brick building west of the D. & C. depot in Arcanum He made furniture, caskets, interior work such as the stairway in the John Smith House and likely other early residences as stated by his decedents passed down to the present-day decedents.
Christian is noted for his patient invention of the Centennial Table Fan. It could set upon a caster in the center of the table and put in motion would run from 30 to 130 minutes without rewinding and would prevent flies from touching any dish on table when put in motion. The fan could be seen at George Ivester's, John Smith's, Dr. Robinson, B.P. Ozias, as well as A.F. Smith, D. Olwin, John D. Clarks, G.V. Larsh's, all in Arcanum and other places too numerous to mention.
Christian came to the home of his son-in-law and daughter, Mr. and Mrs. Emanual Strader after living at the home of his son Benjamin. Just three weeks later, Christian, age 94, died at 7:00 p.m. on a Monday at the Strader home. The funeral services were held at the U.B. Church in Arcanum on Wednesday afternoon at 2:30 p.m. conducted by Rev. Kilbourn.
Christian's parents, David Good buried in 1840 and his wife Barbara Neiswander Good buried
in 1874, are laid to rest near Christian and Diana Good in the Ithaca Cemetery.
Please read and follow AWTHS blog guidelines regarding contents.