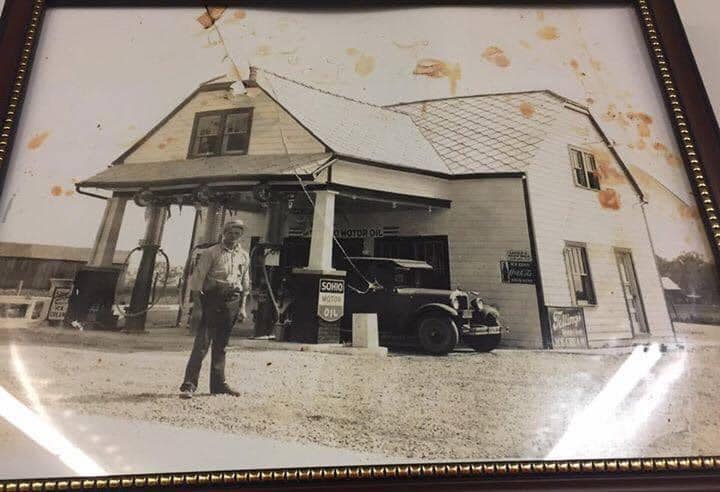 Midway on Rt. 49. Photo courtesy of the Archer family.
County Roads from newspaper clips.
Route 9 will become a Federal Highway, part of the national highway system and will be known as No. 127. The last pavement was laid, making a completely paved road from Cincinnati to the Michigan line. (Arcanum Times March 26, 1931)
Midway Bus Service Station. State Highway 51 (later changed to Highway 49) halfway between Greenville and Dayton. Now Open for Business. Ice cream, eats, groceries, tobaccos, and cigarettes. Standard and Sunoco gas. Owned and operated by Ray Flory. (Arcanum Times, April 18, 1929). **I remember riding my bike from Karr Road down Graw Road to go get a candy bar or ice cream here as a kid. Archers owned it and would have been late 1960's. Annette Stewart
The state highway running thru Greenville formerly known as No. 29 is now designated as Federal Highway No. 36. The highway was once designated "Pike's Peak Ocean to Ocean Highway." (Arcanum Times, March 17, 1932)
After May 17, the Fort Recovery-Greenville Road now known as State Route No. 51 is to be changed to Route No. 49. The State road carrying number 68 beginning in Union City and running east and west through Versailles, Sidney, etc. will be changed to Route Number 47. (Arcanum Times May 18, 1933)
Greenville-Dayton Road to be widened. State Highway 51 (sic now 49) from the south corporation line of Greenville to the Montgomery county line will be widened and several dangerous curves eliminated. The present pavement is 15 feet wide and is planned to widen it to 20 feet wide. Curves at Studebaker Hill south of Greenville, the curve at the Curve-Inn Filing Station north of Arcanum and also the one at Lambert's curve will be improved. (Arcanum Times June 29, 1933)
Please note AWTHS copyright guidelines as well as notations to writer, AWTHS and sources.