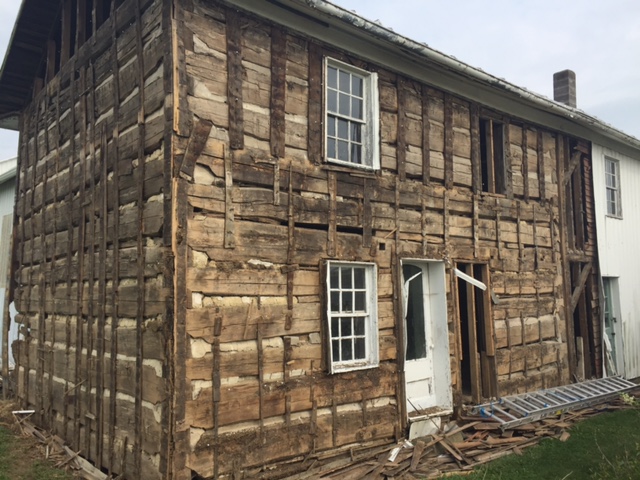 Log House Builder's-The Fryman's
Fryman Log Home uncovered in 2017 and taken down
Last blog we told about the need for the log house to either be repaired or come down and explained the step by step process.
This blog tells the story of the farm's owners and about the Fryman family who signed the log home and are listed on the land deeds.
The log house was a two rooms down and two rooms up with a corner stair well and later addition of room on the north end with one up and one down. We speculate the downstairs "addition" was for stripping tobacco and the upstairs may have been to store seed or grain.
Lathe was removed in the process and originally was plastered and white washed. It contained the original door to the north and some doors and windows were sided over.
The log house was sold to a company in North Carolina www.oldlogcabins.com who repurposed it back into a log home and it now stands proudly in Montana. From their web site it was listed as: Circa 1857 log house, 18 X 24, oak and beech logs with V-notches.
HISTORY OF OWNERS FROM DEEDS
This is done in a separate article but we are just listing the name and dates of who purchased the farm. We are not 100% who built the house but can assume from the name on the log and looking at the deed history that Noah Fryman might be the man. We don't know what they used earlier or anything about that history. Also there's another name on the chinking but we can't decipher it.
HISTORY:
In 1836 Joe Emons to Caleb Holcomb 118 acres.
1844 Caleb Holcomb to John Beaty
1859 John Beaty to Nicholas Neiswonger
1864 John & Mary Fry/Peter Neiswonger to Noah Fryman quit claim. Guardianship of persons and estate of George Neiswonger and Estate of Nicholas Nyswonger.
1866 Sheriff to Noah Fryman
1907 Noah Fryman & wife Elizabeth to Lewis Fryman
This is the other section of farm: It resides in Monroe (log house side) and Twin Township.
1834 Robert Lucas, Governor of Ohio to Daniel Holsapple 79 acres
Paid by Daniel to Joseph Young receiver of Miami Canal lands at Piqua, Ohio.
1856 Daniel Holsapple and Mary to Christian Young
1857 Christopher Young and wife Mary Ann to Noah Fryman
(Error in recording)
1867 Murry Mitchelle to G.B. Davis
1873 Murry Mitchell to Noah Fryman 4 acres
1876 Murry Mitchelle to Noah Fryman 36 acres
1876 Noah Fryman to Murry Mitchelle 4 acres. Mortgage cancelled.
1902 Noah Fryman to Lewis Fryman
1902 Lewis Fryman and wife Sarah to Noah Fryman. Mortgage paid.
1924 Lewis Fryman to obtain loan for 40 plus 10 acres from Joint Stock land bank of Cleveland Ohio.
1927 Lewis Fryman in bankruptcy
1927 Trustee for Lewis Fryman to Herman Raile.
Dale Sease bought farm in 1960's.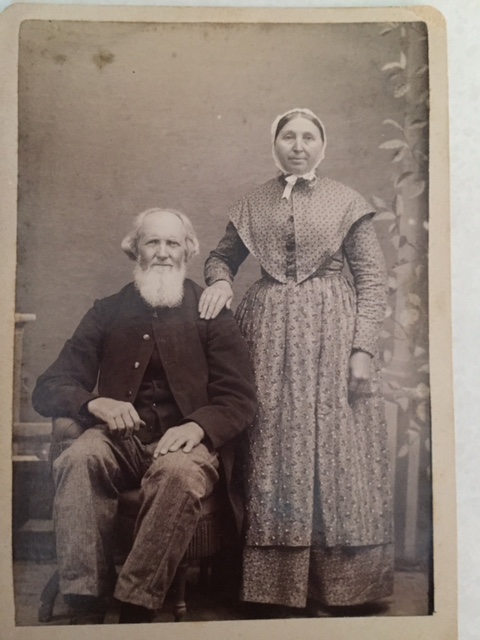 In obit from Arcanum newspaper date 1927 we find the obit for Elizabeth Fryman the d/o Nicholas and Leah Niswonger who was born April 27, 1840. Married Noah Fryman 1859 and had 10 children, 4 died in infancy. Surv. George of Troy, Annias, Nicholas, Mrs. Dan Fourman, Louis and Mrs. Clem Martin all of Arcanum. Husband d. 15 years ago which would be 1912. She is buried in Mote Cemetery.
Found this about Noah Fryman in 1880 "History of Darke County, Ohio" page 628 in Monroe Township- farmer, Section 13 PO Box Arcanum. One of the old settlers of Darke County and was born in Montgomery Co., Ohio August 2, 1835 and is a son of Jacob and Catherine Fryman both old residents of Montgomery Co. Our subject was reared a farmer's boy and labored on his father's farm till his 21st year when he began life for himself and followed the occupation he was reared to. He removed to Darke Co in 1848 and settled on Sec. 6 where he remained till 1859 and then removed to the place where he now resides. He first settled on 40 acres of wild land that took years of toil and privation before he had it in good condition that makes farm labor agreeable and profitable, by great industry and good management he added to his little farm till now he owns 125 acres of choice farming land all in a high state of cultivation. He has been very successful in life….He celebrated his marriage with Miss Elizabeth, daughter of Nicholas and Leah Niswonger April 5, 1859. Her parents were residents of this township. Her father was killed Sept. 16 1864, her mother died in 1839. Mr. and Mrs. Fryman are the parents of 10 children viz George, Ananias, Nicholas, Mary, Lewis, Hetta, one son and three daughters died in infancy. Mrs. Fryman was born April 27, 1840. Members of German Baptist Church. *Correction on Leah Niswonger DOD: Stone reading at Mote Cemetery by Anita Short in 1960's say "Niswonger, Leah w/0 of N. d. 4-10-1851 (broken stone). Photo of stone here: https://www.findagrave.com/memorial/18022108/leah-niswonger
Around 1860-1870's the Fryman's built a brick home which is still standing today and has several additions to the home built at different times.
In looking at the plat maps we discover three Fryman's living on the west side of Karr Road. A. Fryman (possibly son Ananias), Noah, and George. We believe many of the photos are taken at George's place which was down the road close to Grubbs-Rex Road intersection. At that time it looked like the farm extended to the corner of Karr and Grubbs-Rex and extended west. There appeared to be a house there as well.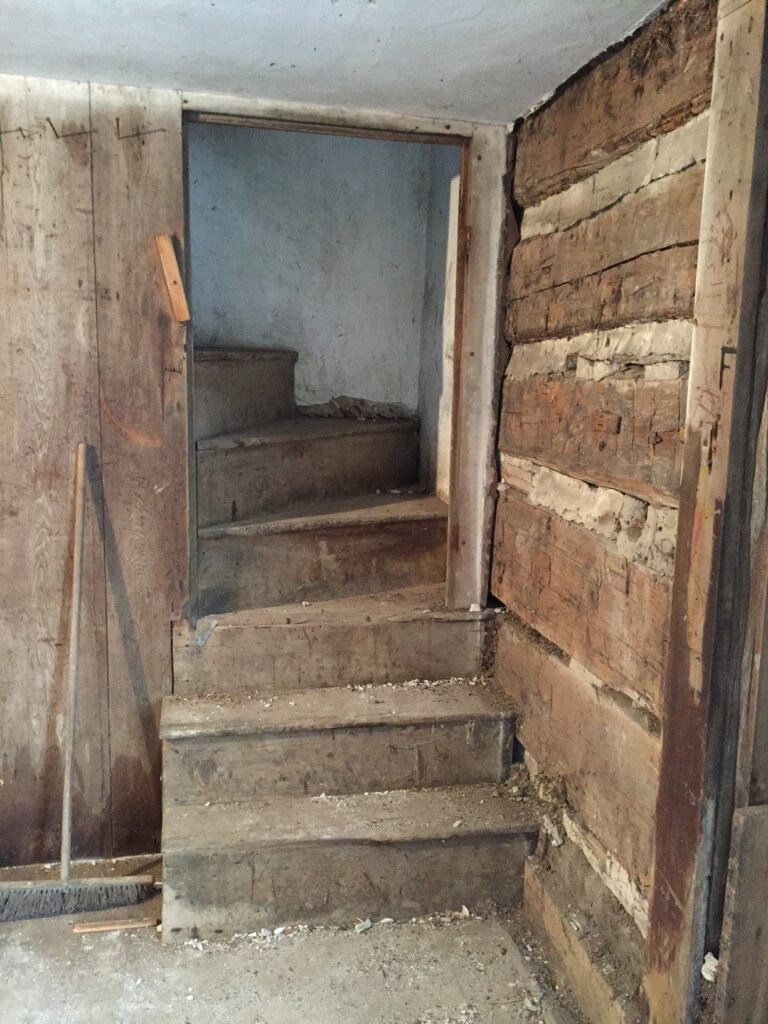 Original stairwell and plaster white wash in log house
AWTHS has a file with photos of the Fryman family in our library donated by family members and more photos of the inside of the log house. Available by appointment to view.
Please honor copyright on this blog, info, story, and photos.