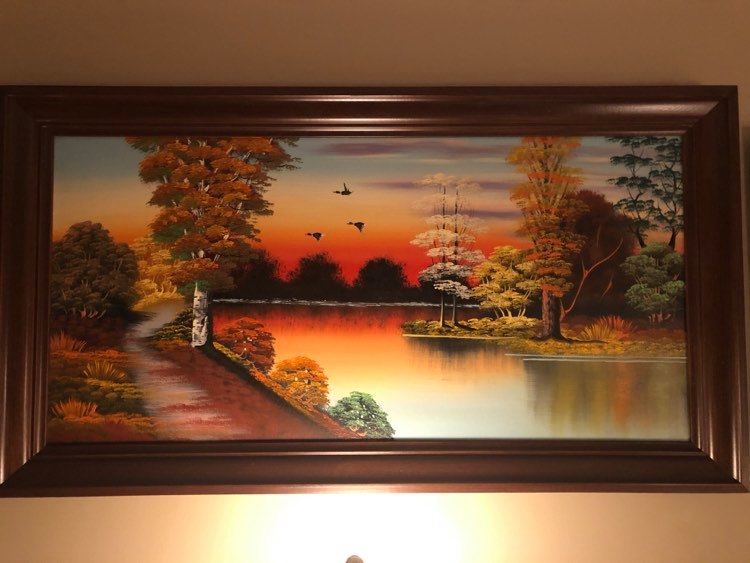 Featured Picture: Ted Martin Painting from Carol Martin Price
Told by Carol Martin Price to Annette Stewart. Written by Barb Deis.
This topic was sparked by an general inquirer about Ted Martin's painting he had purchased from a vintage shop, to the AWTHS. From there, it was asked on the "You Know You're from Arcanum" FB page. We found out Ted was Carol's father so we interviewed Carol for the following blog.
Ted Martin, Painter *** Martin's Lemonade Shakeups Business
My Dad, Ted Martin, was a watch, clock and jewelry maker by trade. He was also an inventor, carpenter, concessionaire and a jack of all trades so to speak.
Dad first started at the Darke County fair in 1958 in a tent where he engraved aluminum jewelry which was popular at the time Later in 1964 he had a booth under the grandstand where he sold his paintings and also painted landscapes for fairgoers while you waited.
He painted with oils on upson board. He made the frames which my Mom, Helen (Henninger), stained then finished them with polyurethane. My sister Diane and I would also help in any way we could.
Carol recalls her Dad taking seven lessons from a man who also painted pictures at fairs. He went to Portsmouth, Ohio and stayed with this man for a week. Dad had a shop in the upstairs of our house which was across the alley from the laundromat.
Dad had several jewelry stores, the last one in Versailles in the 70s.
In 1981 he hadn't been feeling well in the spring and summer so he wasn't able to get any pictures painted up for the fair. He wanted one of us kids to put something in the booth at the fair to hold the spot for him until the next year. My sister Diane and Terry and I decided to put in a lemonade shakeup stand since none of us could paint. In the meantime Dad was diagnosed with lung cancer and passed away on the first Friday night of the fair.
The rest is history. That's how my family started the lemonade business.
My Mom's name was Helen Henninger, she graduated from Arcanum in 1940. Dad was from Bradford.
Read more about Martin's Lemonade Shakeup Stands at martinsconcession.com