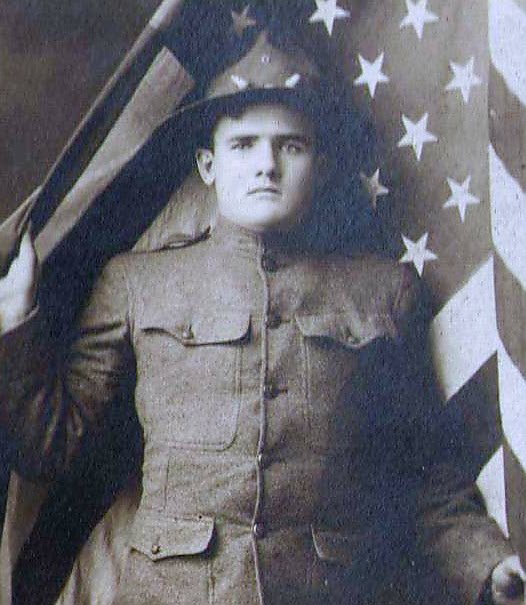 "Out of the Trenches" and "Letters from the Trenches" are books based on the WWI Diary/Letters of Daniel R. Warvel, Purple Heart Recipient – Born in Beamsville, Ohio 2-29-1892 transcribed by his granddaughter, Lana Lease-Johnston, Noblesville Indiana.
Lana remembers her mother's most prized possession was a little brown pocket diary. The front cover had broken off from the top and the pages had words written in pencil, now smeared into the fading paper. Over the years, she would periodically get it out and try to make sense of the words, as she was trying to connect with her father who had died at the VA Hospital when she was 10-days-old. He had been back and forth from Greenville to the VA hospital after the war because of neurological consequences of being gassed and having been wounded in action during the Oise-Aisne Offensive on August 30, 1918. It was for these wounds that he received his Purple Heart. The passages in his diary were written in the dark (as to not alert the enemy) by my grandfather in Europe in the trenches during WWI. My mother would mention that she wished she could figure out his entries in the diary. She could make out a few passages here and there, such as the one where he had almost met his end that day and had to get his gas mask on. Ironically, that was at the very end of the war, November 11, 1918, the day of the ceasefire.
She let me borrow this diary a few years ago and then the work began. I have worked in the medical field for years, having deciphered the medical orders and notes left by physicians, so I had a leg up on this task. I went page by page, mostly in the evening after work and sometimes stayed up into the night, absolutely enthralled by his writing. At times, it was surreal as if he were sitting next to me, helping me transcribe his words, so they would have meaning to us all, a century later.
It took me almost a year to get through the entire diary. After it was transcribed, I was able to self-publish and copyright his words mostly for the benefit of my mother; connecting with the father she never knew, but also for my children and their children, as they should never, ever forget the sacrifices of ancestors.
Ironically, a year after I had published my grandfather's diary, a distant relative of my mother's brought to her house a stack of letters in a manilla envelope. These were letters that my grandfather had mailed home from the frontline in France. A few of them were from Camp Sherman in Chillicothe, Ohio where he trained and then a couple from Camp Merritt, New Jersey on the East Coast before heading off on the big ship to France. Most of the letters were again, written in pencil in the trenches. These give a more personal account as they were letters to his oldest brother, Ott Warvel back in Greenville, Ohio. It is in these letters that we really get a sense of the man my grandfather was. Being a farmer in Ohio, he immediately noticed how different Europe was in their agriculture, but he also took note of the difference in the architecture. He had never traveled much out of Darke County, Ohio and now was in the heart of Europe. One of the letters even had a fern enclosed that was picked from a battlefield on the frontlines in France. I am please to say it is still beautifully intact.
I learned so much about my grandfather through this process. What struck me was his sense of humor and determination he kept through the war. He was a farmer who was only educated through the 8th grade, but his letters reveal that he loved his family and his parents more than anything. He mentioned how beautiful Franc e was, but you could tell he would have rather been home in Darke County that he longed for so much.
His daily entries, in both his diary and his letters, testify to his steadfast patriotism and incessant power of observation. In his writings, we find out it is through ordinary men just like my grandfather in the Great War that the nation's beginnings are memorialized.
You can purchase Lana's book at the following links:
"Out of the Trenches, a Soldier's Diary"