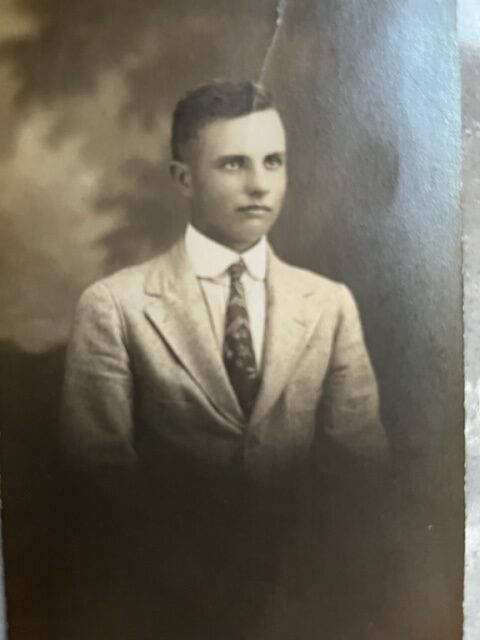 The Herbert Stutz Family and Stutz Garage
In working on the Pitsburg project, Carolyn Stutz Temte saw our post on the FM Alumni page and thus responded about her dad, Herbert Stutz and family.
This is Carolyn's story.
My parents were Herbert and Leona Stutz. Dad and his twin brother, Howard Martin Stutz, started Stutz Bros Garage in Pitsburg on North Jefferson. They also had a car business in Savona, Ohio. Uncle Howard moved to the farm the two of them owned and dad took over the garage business. I have the sale bill from the business when dad died in 1970. Also some other photos of dad on a old fire truck at the Threashers Reunion as well as the twin's baptism from 1897 and dad's high school 1915 graduation diploma. (from Arcanum).
Herbert's Family
Siblings:
Mabel Stutz Cross 1899-1973

Roscoe Sttutz 1909-1977
Herbert or Herb and Howard were twins. Born October 29, 1896 near Ithaca, Ohio. Parents were Joseph and Callie (Sarver) Stutz. The photo is of the 1897 baptism of Herbs and Howard.
Picture Baptism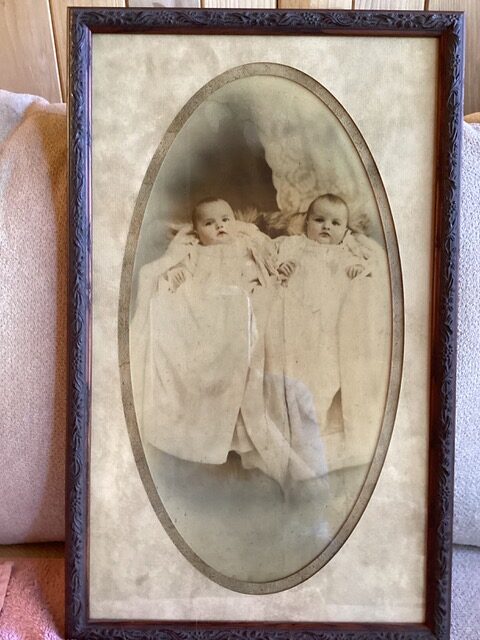 Twins Herbert and Howard Baptism
Herbert served as a private in the army during WWI.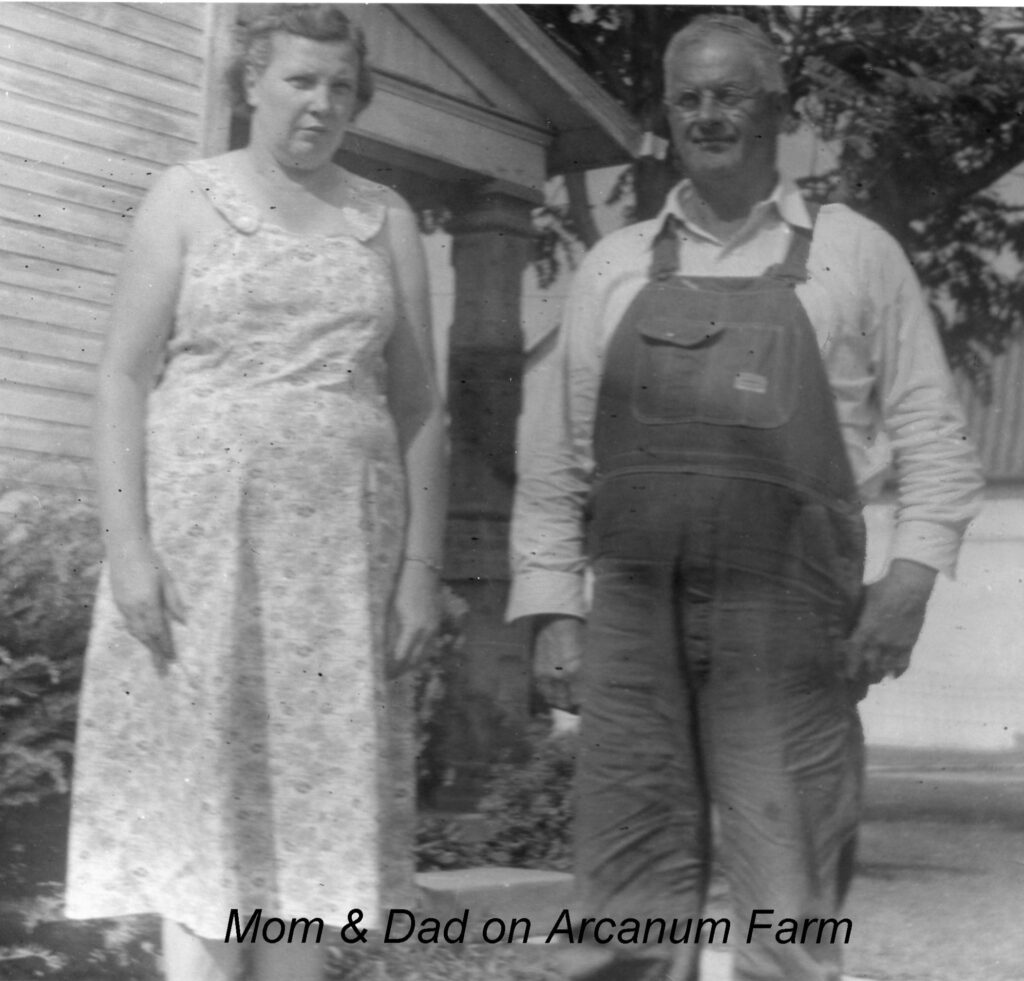 Herbert and Leona wedding took place in 1920. When dad was courting mom, he took a railroad hand car and pumped it on the tracks to where she was. She lived near Lima, Ohio but worked as a domestic for various families in different areas.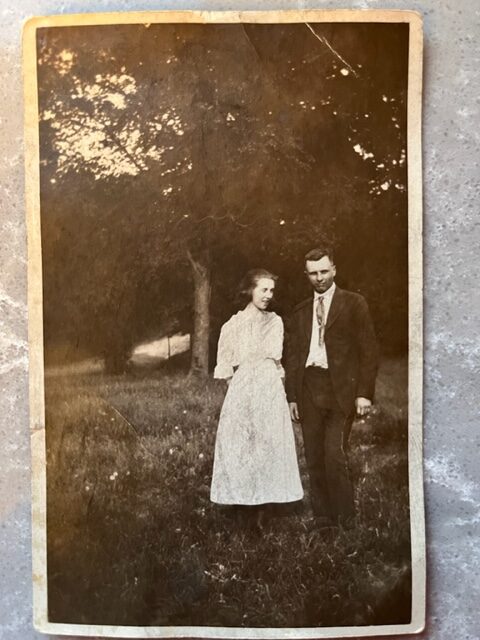 Herbert and Leona's children were: Evelyn Irene, Helen Loraine, Herbert Jr., Phyllis (Bey), Twila (Blumenstock Bivins), Donald, and Carolyn (Temte). The house we lived in was located on North Jefferson Street and was a large house because there were seven Stutz kids. Carolyn said "part of the house was moved to this location then more was added on. Uncle Howard and Aunt Anna lived with Herb and Leona for a while. Part of the house was rented to different people at various times."
Evelyn Irene Stutz 1922-1949
Helen Loraine Stutz 1924-2016
Herbert William Stutz Jr 1927– 2011
Phyllis Jean Stutz 1929- 2009
Twila Faye Stutz 1932-2021
Donald Lee Stutz 1936 -2008
Carolyn Stutz Temte
The kids attended Monroe School.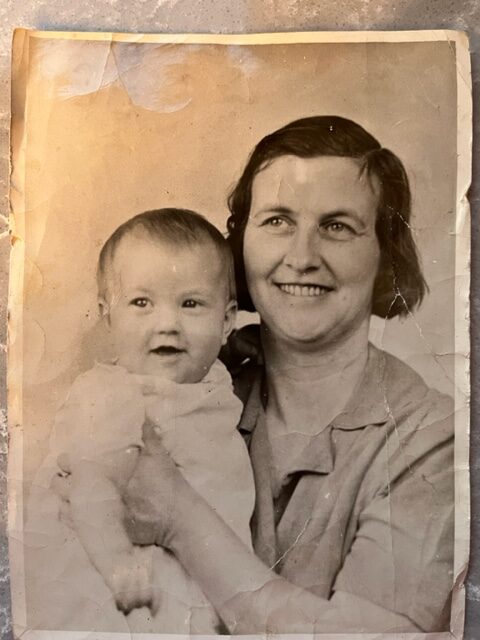 Carolyn age 1 and Leona at 41 in 1942.
Memories:
Movies were shown upon the tobacco warehouse building in the summer. People brought their chairs and blankets. Mom popped corn and put it into paper bags and my older sister and I would go to the warehouse and sell it.
In the summer my sisters walked the tracks and picked wild strawberries and blackberries.  We peddled the berries around town to various neighbors.  The money garnered was used to buy sugar to make jelly for our family in the winter. 
During the Depression in the winter months, people walked the tracks picking up coal that had fallen off the coal cards. Times were tough for many families.
South of town on Rt. 49 (today across from T & C Motor Sports) was a filling station ran by the Kaiser family. There was a soda or pop advertising sign somewhere on the building. There were two children, whom I knew, Robert and Rosemary. The family moved away to California. Carolyn visited them when she lived in California. Names were Bob, Christine, his wife and their daughter, Carrie. We shared many wonderful memories and not so wonderful memories of Pitsburg.
Porters Store (old Ellers/Riseley's store)
Porters Store was operated by John and Vashti Porter. It was a social hub for many. People got the latest news and gossip there. The store sold a little bit of everything. One could buy Porter's drawing salve. It was not the best smelling stuff. I don't think John and Vashti actually made the salve. It was probably made by George Rundle Co in Piqua, Ohio. This was about 1916. The salve can still be purchased. I remember Vashti Porter because I loved her name.
Stutz and Sando Funeral Home of Arcanum. It was a custom to have the viewing in the family home. The school brought busloads of class mates to the viewing. The children entered through a door to the living room, down a short hall and into the front room where the casket and receiving line was. Services were held in a church. The whole community came together in 1949.
Stutz Garage
We see different ads for the store in the newspaper as early as 1923.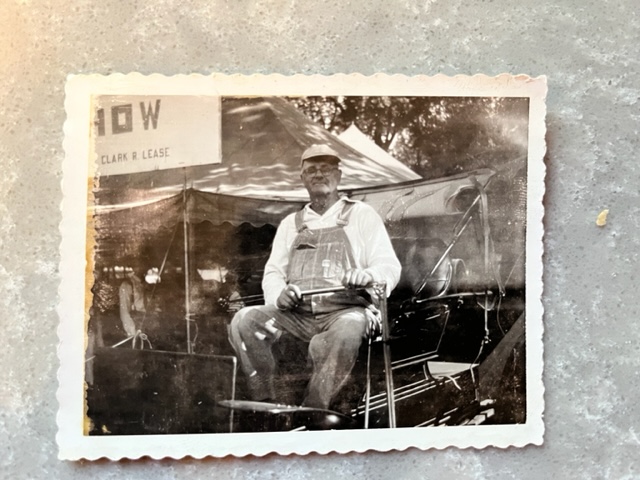 Herb died July 11, 1970 and his buried in Mote Cemetery with his wife who died in 1997 along with daughter Evelyn, who passed 1949.
Sale Bill
https://www.findagrave.com/memorial/33570886/herbert-william-stutz
We are looking for old photos of the Stutz Garage. If you have a good copy or could send us a clear photo, we would certainly appreciate it.
Please follow AWTHS blog guidelines. Credit goes to writer Carolyn Stutz Temte and Annette Stewart. The story and photos are part of awths archives. Please follow in regards to copying or sharing,