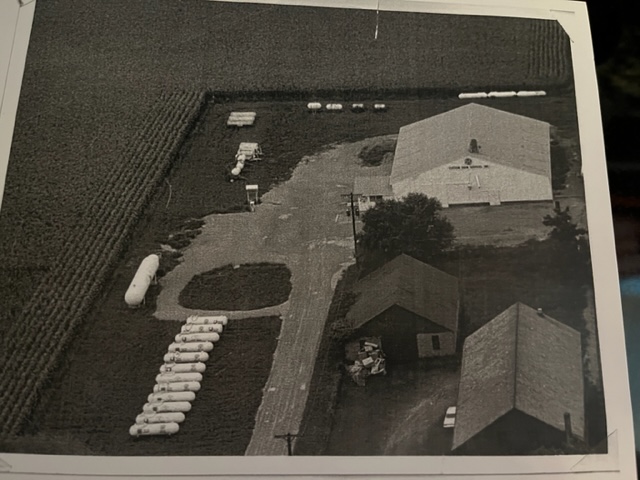 Leis Chemical Company . Photo from Don Leis
Story from Don Leis.
The Pitsburg plant was built in 1964 and was called Leis Chemical Company. Owners were John Leis, his brother Ralph and Ralph's son, Don Leis.
Don managed the Pitsburg plant. Charles Hangen was the outside salesman calling on farmers along with Don Leis. Robert Hangen was the plant foreman. Lyle Hansbarger and David McKibben worked in the plant.
1965 Leis Crop King Fertilizer.  Complete soil service:  fertilizers, special mixes, nitrogen, anhydrous ammonia, trace elements, herbicides and insecticides.  Name was Leis Chemical Company.  692-8400.  Same phone number in 2023.
In 1965 The Tennessee Corporation wanted to purchase the company and make it the Leis Division of Custom Farm Services. Lei's sold in fall of 1965. Upon the sale, Don became the sales manager over 34 plants known as the Leis Division. John became the division manager and Ralph managed the construction of building new plants in Ohio, Indiana, Illinois and Iowa.
Charles Hangen became the Pitsburg manager and remained Custom Farm Services who sold the plant years later.  Other manager included Kent Thompson. 
Don left the company in 1971 to start selling real estate.
Don replied "the farm community of the Pitsburg area treated us well, it's a great community".
A personal story from Don Leis and wife Barbara (Hocker) Leis:
My wife was Barbara Hocker. She worked for Dr. Jesse and Fern Heise. During her high school years at FM she helped care for the children of the Heise's while Dr. Heise and his wife worked in their doctor's office.
Barb and I got married in 1960 and we bought all of our furniture from Dick Long At his furniture shop which was across from the elevator.
Please follow AWTHS blog guidelines. Contents are to be credited to writer Don Leis and fall under the ownership of AWTHS archives.