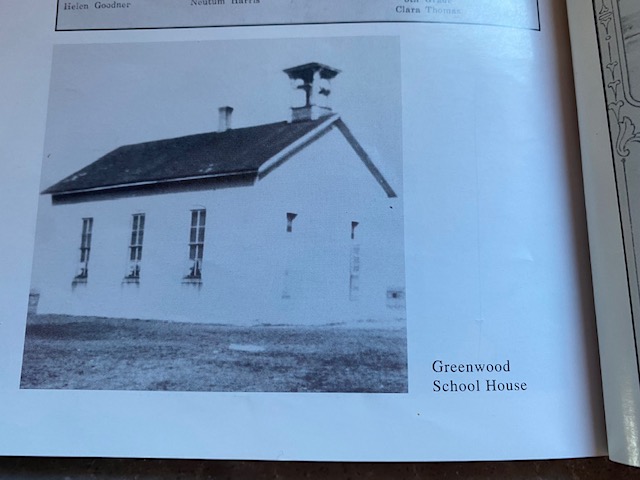 Greenwood or Greenbush One Room School House on McCool Road
This story was written by C. Wayne Davis and given to Normal Rhoades, his teacher. Later it was given to AWTHS by Janet Rhoades.
THE WINTER STORM OF 1936
by C.Wayne Davis
I remember the day. It was Wednesday, January 22, 1936. I was thirteen-years-old at that time, and lived with my parents, Herman and Forest Davis and my three-year-old sister, Marilyn. on what was then known as the Henry Routzong farm. The house and barns were back a long lane off the south side of the Erisman Road in Van Buren Township, Darke County, Ohio.
That January morning, my dad had been sick with the flu and temporarily bed fast.
Also my little sister had a fever, no doubt catching Dad's flu. This meant that my mother could not leave the house very long at a time to help with the barn chores. We were not milking many cows at that time of year, so between her and I, we managed to do the morning and evening milking.
When she and I went to the barn that morning, the thermometer read eighteen degrees above zero. On our return, it had dropped another degree. I quickly washed and changed my clothes while Mother was preparing a hot breakfast After eating, I slipped into my new high-top shoes, put on an extra heavy sweater and finished with a warm jacket that I had received as a Christmas gift, then covered my head with a wool stocking cap. Mother cautioned me to be extremely careful as I was going out the door and waving good-bye.
I could feel the cold wind on my back as I cut across the snow covered fields that were my short cut to the one-room, Greenwood schoolhouse, also sometimes known as "Green­ bush." It was located almost at the west end of McCool Road. I had two open fields to cross before crossing the McQuay Ditch. When I arrived there, I remember the stinging snow hitting my face as I looked back to see our house; it was not visible. The wind and snow had picked up in that short of time to almost a complete white-out.
(This ditch, as it is called on the Darke County maps is the same one that runs through the Routzong Preserve, which by the kindness of Betty Routzong Johnson, is now owned by the Darke County Park District.)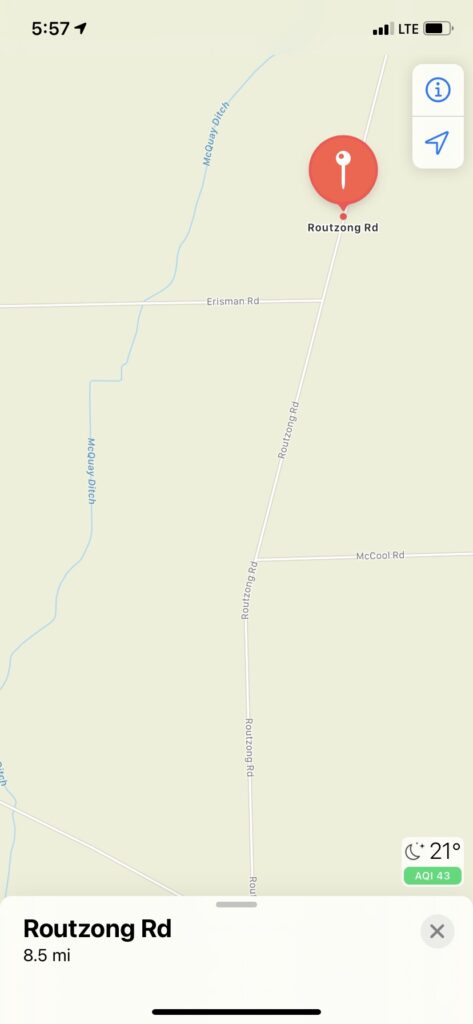 I finally made it across the ice and up the steep ditch across another field ending
where the McCool Road meets the Routzong Road. There I met some of my schoolmates who had come by the road and were also stumbling through the blinding snowstorm. they were Lowell and Farrel Dunn, Kenneth Hill. and Leonard Thwaits. We were about froze and quickly headed east the last two hundred and fifty yards to the schoolhouse.
Miss Marie Hartle was our teacher, and being a rural schoolteacher for a one room
school meant getting up early on a cold winter morning. Besides other things, there was lunch to pack and trying to start a car that was always difficult to start in the winter. then driving on unplowed roads to a dark schoolhouse. If there was a heavy snow, she had to remove a snow shovel from her car and clean off the steps, then go in and build a fire in the large coal stove that sat in the middle of the room.
On this particular morning, Miss Hartle met us at the door and swept the snow off our clothes with a broom, then hurried us over to the stove to get warm. She kept a close count on those that had arrived and those that didn't. Some parents kept their kids home, which we Ifound out later was a smart idea Like most one room schoolteachers at that time, the students were like a big family to her and this was a huge responsibility. She was worried about the weather. Should she send the students home now or wait out the storm? She decided to wait till noon then make the decision.
There was not much teaching that morning as Miss Hartle walked to and from the west windows, watching the snowdrifts getting deeper and deeper. At lunch time, when a couple of eighth grade boys tried to open the door to bring in a bucket of coal for the stove, the door wouldn,t open. With the help of two more, we pushed the door open to find a huge snowdrift blocking our entrance. Miss Hartle told us to forget about the coal, she was dismissing school as soon as everyone was ready. I'm sure this was a difficult decision for her to make.
We started home. Those going east found it much easier than those going west and north. The snow was knee-deep and although we didn't know it, the temperature had dropped to two degrees below zero. When we reached the Routzong Road, Robert Rhoades. and his younger brother. Junior. turned South toward their home, and the other students headed north. I parted company with my friends and started across fields to find a home that I could not see. Crossing the bare field wasn't difficult because the wind was sweeping the snow till it hit something solid like fence rows. But when I came to the McQuay Ditch again, it was·almost level with snow.
When I stepped in, it came up to my shoulders, filling all my pockets with snow. I plowed my way through and up the west bank out into an open field to find that my gloves were wet. Being only thirteen, I had never experienced anything like this, but I knew I was in deep trouble. With the snow pelting my face and my hands getting colder, my body was beginning to have a strange feeling. I stumbled on realizing that I was loosing my strength, but dare not stop. It seemed like hours before I finally caught a glimpse of our house and
it was only for an instant, but after seeing it, I knew I wasn't lost.
Unbeknown to me, John Pershing Balcer, who was fifteen-years-old and a good friend of mine and my family, heard that my dad was sick. He put on about all the clothes he had and walked from his home, one and a half miles southwest of us that day to help me with the evening chores. When he heard that I had gone to school that morning and hadn't returned, he and my mother took turns watching from an upstairs window for me to make an appearance. All at once the wind let up and John saw a tiny figure struggling toward the house. He ran downstairs and told my mother, then put on more clothes, grabbed a warm comfort that she was holding and started my way.
I didn't see John till he was in front of me, trying to wrap the comfort around my
shoulders. By this time, I had lost all sense of reasoning and tried to fight him off. John held the comfort on me and kept saying, "You're almost home, Wayne. You can make it now. I know you can." With those encouraging words, I leaned against him and he half­ dragged and half-carried me into the house.
Mother was wringing her hands and thanking the man up above when John and I stumbled into the kitchen. They sat me on a chair close to the wood burning kitchen stove and begin to strip off my heavy clothes. John could not get my high-top shoes off because the laces were frozen together, so he cut them with his knife. Dad came out to see how I was doing and Mother chased him back to the couch where he had been resting. She had a pot of cocoa simmering on the back of the stove and kept me drinking that while I was changing into dry clothes.
I knew by this time that both hands had frostbite, also my ears and nose. They kept cold water in a wash pan for me to emerge my hands, and held cold water soaked wash rags against my ears and nose. This was my first experience with any part of my body receiving a frostbite and I hoped it would be the last.
At four o'clock that evening the temperature had dropped to ten below zero, and at five­ thirty it read eighteen below. (All of these temperature readings are from the Davis diary.) John and Mother did the barn chores while Dad, Sis, and I huddled around the room stove to keep warm. Both of them still had a temperature and I didn't want to get too close to either. Soon as the chores were done, John ate a hot meal, then took off for home. We tried coaxing him to stay overnight, but he thought he should return to his home and check on his parents and the livestock. We worried all evening. wondering if he made it home safe and sound.
The rest of the story next week!
Please follow our AWTHS blog copyright guidelines. Credit is to be given to the original writer as well as AWTHS.