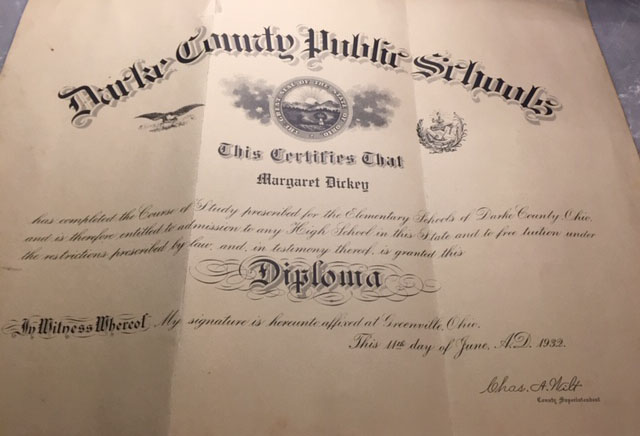 Margaret's school certificate probably from 8th grade
Margaret was born 1918 and her parents are Bessie Landis and Hershel Dickey. She married John Barklow on December 24, 1940.
From the certificate photo above, we have Margaret graduating in Monroe Township in 1932. We are assuming it's her 8th grade graduation as it states completion to move on to high school. During those years the Monroe School on Oaks Road near Pitsburg was operational being built mid 1920's. Most one room school houses probably were abandoned with students in Monroe Township going to the Monroe School. However, we have not found records which indicate when most of the one room school houses actually closed for Monroe Township. In talking to my own mother, who is 95, she said she always went to Monroe School near Pitsburg and not any of the one room schools. She graduated in early 1940's. So we are relying on past students stories and memories.
However, if Margaret attended a one room school earlier on, it could have been Sunnyside or Hissong located on Schnorf Jones Road on west side of road or at South Dale, also known as Three Maples, which was located at intersection of Rt. 722 and Verona Road.
Margaret lived on Rt. 722 near the Verona-Pitsburg Road. Today the farm has the barns remaining.
Thank you to Myra Coleman for this fine acquisition and notes from her family.
Anyone with history on the old one room school houses, Hissong/Sunnyside or Southdale/Three Maples please contact Annette Stewart at AWTHS. Respond thru messenger or email: [email protected]. Especially interested in dates, photos, class lists and small souvenir programs which list the class students names, school and year.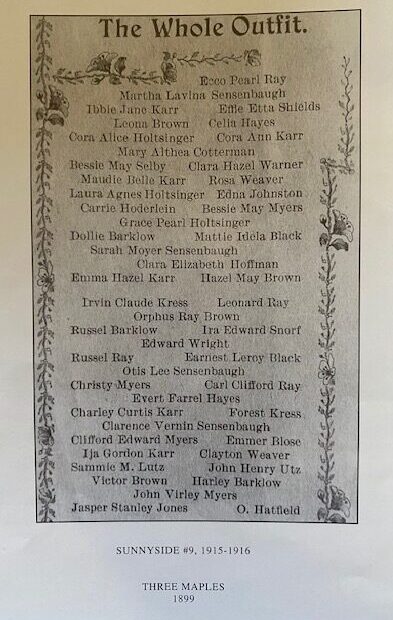 Please honor AWTHS copyright regarding blog, photos, writers and info. This also includes anything shared that it is done from original source. Please read and follow. Thank you.